Updated 3/25/2022
There's nothing quite like the classic elegance of wood. This building material has been used for centuries to create home styles of every shape and size. And yet, today, wood is still a popular look that adds sophistication and functionality to any home. Even among garage door designs, wood is a coveted material to use. It blends seamlessly with other natural building materials and gives any home a classic look. Unfortunately, although owning a wood garage door is at the top of many homeowners' wish lists, it's not financially feasible. Wood garage doors are almost always more expensive than those that use other building materials.
Thankfully, faux wood garage doors are coming out that have such a realistic look that it's next to impossible to tell the difference between them and real wood. If you are in the market for a new garage door and you're looking to make a signature statement with your home's exterior, then it's time to consider the benefits of faux wood. There are many options available in the garage door market today. Below are some of the top faux wood garage door designs.
What Are Faux Wood Garage Doors?
Also referred to as "wood-look" doors, faux wood garage doors are the perfect blend of fashion and function. These doors are designed so perfectly that only a professional eye can tell the difference between wood-look and the real thing. Faux wood garage doors are generally made of aluminum, steel or fiberglass. But then it's finished with an overlay of faux wood or wood composite. Sometimes, the garage door's exterior cladding is constructed using real wood pieces so that it can convincingly mimic the material's grain and texture.
Faux wood offers both the look and functionality of wood garage doors and allows homeowners to enjoy the traditional appeal of wood without spending a fortune. However, there are other benefits that faux wood garage doors offer.
Benefits of Faux Wood Garage Doors
Although wood is a classic building material and is highly desirable for the construction of classically elegant garage doors, it does have a few downsides. Faux wood offers the same aesthetic appeal while also solving some of the issues that homeowners have with traditional wooden garage doors. Some of the advantages that wood-look garage doors provide include:
Low Maintenance: Wood garage doors require a lot of care to keep them beautiful year after year, from staining and painting to other care instructions. Faux wood is perfect for those who want that wood look but without the upkeep.
Easy to Clean: Wood-look garage doors are much simpler to clean than their wood counterparts. Steel, fiberglass, aluminum and other materials don't require the high-maintenance care and specific cleaning processes that wood garage doors need to stay clean.
Hard to Damage: Faux wood has proven to be highly durable and resists all forms of damages, from dings and cracks to all types of weather.
Reliable: These doors tend to last much longer, and can go years without the upkeep required by wood garage doors. At DistribuDoors, we offer a variety of limited lifetime and years-long warranties on our doors, including their paint systems, windows and hardware.
More Weather-Resistant: Without the proper weather-proofing, wood doors are known to rot, bow, warp and rust when winter or rainy weather hits. Faux wood, on the other hand, can stand up to all kinds of weather and still look beautiful.
Lightweight: We all love wood, but it is notoriously heavy. Wood-look garage doors are much more lightweight, which puts less strain on your garage door opening system and extends its potential life span.
Available in a Variety of Prefinished Colors: If you're afraid that choosing faux-wood won't give you the color options you desire, you couldn't be more wrong. There is a huge variety of faux wood garage doors available in an assortment of finishes, both custom and factory-made.
So, if you feel that you're missing out by not having a wood door at your Auburn home, don't fret. The advantages that come with steel garage doors that look like wood make purchasing one a more economical and logical choice.
Choosing Between Wood Vs. Wood Look Garage Doors
The difference between wood garage doors and Faux wood garage doors is that wood garage doors are made entirely of wood while faux doors, also called wood-look doors, are typically made of steel or aluminum covered with a wood or wood composite cladding and overlays. Wood garage doors can provide wide customization and are dent proof. Wood faux doors, on the other hand, provide great reliability and low maintenance.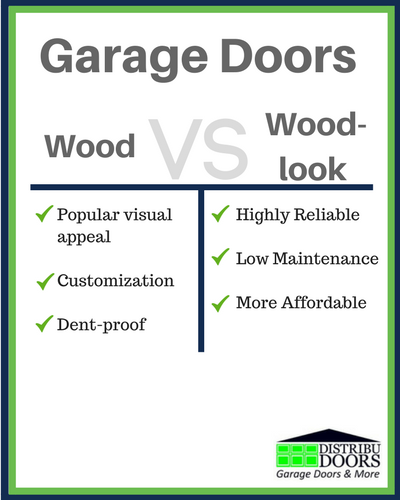 Wood Garage Door Overview
These doors can be built in several different ways. The least expensive builds are lightweight and have a wooden frame filled with insulation and wrapped in hardboard skin or plywood. The more expensive versions have frame-and-panel doors made entirely of whatever type of wood you choose — redwood, cedar, mahogany or hemlook, among others.
Pros of Wood Garage Doors:
Popular visual appeal: One of the primary wood garage door benefits is their elegant and authentic appearance. Popular designs include classic, contemporary or carriage styles.
High potential for customization: You have color, wood type, stain and many other choices at your fingertips. Wood doors are custom-made any way that works best for your home and matches your tastes, and they can be carved to incorporate any design.
Dent-proof durability: Unlike aluminum or steel, wood doors are extremely sturdy and won't dent from most impacts.
Variety of prices: While almost always more expensive than other garage doors, wood garage doors range from mid-price to extremely expensive.
Cons of Wooden Garage Doors:
Frequent maintenance: They require regular upkeep and need to be stained or painted every two years or more to maintain a fresh look and deflect damage.
Lack of winter durability: If not sealed properly and frequently enough, these doors can get wet and rot or bow in the winter.
Higher price: Partly because they are custom-made, wood garage doors are typically more expensive than any other option.
Longer initial wait time: It takes a while for your door to be ready after you order it because it's being made to suit your specific requirements.
Pros of Faux Wood Garage Doors
Highly reliable: These models prove highly durable and resistant to all forms of damage, including moisture and cracks, and they tend to last much longer through the years without constant upkeep.
Low maintenance: Easy to clean and hard to damage, wood look garage doors are great for people looking to put as little time into their garage door upkeep as possible.
More affordable: These doors are readily available and much less expensive than wood doors.
Cons of Faux Wood Garage Doors
Aesthetic preference: some people feel that faux wood garage doors do not compare in beauty to their authentic wood counterparts.
Sometimes unconvincing: Usually it's impossible to tell the difference from the street, but depending on the design, it might become obvious the door isn't wood the closer you get.
Pricing: While more wallet-friendly than wood garage doors, they may not fit a project budget.
Best-Rated Faux Wood Garage Doors
As an exclusive dealer of Clopay® Garage Doors, DistribuDoors has many faux wood garage door options available to homeowners looking to upgrade their home's curb appeal. Our selection of residential choices combines the beauty of wood with the low-maintenance durability you enjoy with other building materials like fiberglass, steel or aluminum. And since these garage doors come insulated, you're sure to enjoy enhanced energy efficiency in your home.
Here are some of the best faux wood garage doors available today. Depending on which model suits your personal style, the surface is either painted or stained. We also offer an assortment of customizable options and looks so that you can ensure your truly unique faux wood garage door matches the design and layout of your home, whether you're in Seattle or anywhere else within our service area.
Canyon Ridge Limited Edition Series

Canyon Ridge® Limited Edition Series garage doors are created in the carriage house design. This time-tested look has the appearance of the authentic, swing-out doors of yesteryear. However, this modern concept allows for convenient upward operation. Not only are these faux wood doors functional, but they're also fashionable, providing the warmth and classic appeal of wood with the low maintenance durability of wood-look.
This garage door is constructed with a steel base but finished with wood look composite cladding, which comes in a variety of colors: walnut, dark or medium finish, white wash, primed or slate finish. There are tons of other customizable options including specialty glass, hardware and more. Plus, it features Intellicore® insulation.
See Series Details
Canyon Ridge Ultra-Grain Series

The Canyon Ridge Ultra-Grain® Series is an attractive yet economical alternative to the Limited Edition Series. These faux wood garage doors are also built in the lovely carriage house design, but the steel base has a Stained Clear Cypress composite overlay painted utilizing an Ultra-Grain® steel finish. This durable, natural-looking woodgrain paint finish comes in three color options: medium, walnut and slate finish.
This model also features Intellicore® insulation and gives homeowners a variety of customizable options so that you can match your home's distinct look.
See Series Details
Canyon Ridge Modern Series
If you're looking for a beautiful faux wood garage door that complements your mid-century or modern home style, then you'll love the Canyon Ridge® Modern Series. Not only do they incorporate wood-look materials that won't rot, crack or warp, but they also feature key characteristics of contemporary architecture. This includes clean horizontal lines, sleek windows in a variety of options, full-view glass options, as well as aluminum accents all topped with faux-wood finishes.
Although they're made of low-maintenance, durable steel, the faux wood finish is the perfect way to highlight the natural building materials or other textures present in your home's exterior.
See Series Details
Canyon Ridge Louver Series


Our Canyon Ridge® Louver garage doors bring you the plantation shutter style you love with efficient upward operation and lasting strength. These durable garage doors have a five-layer steel base to withstand all kinds of weather and damage. The faux wood composite cladding and overlay materials are molded from actual pieces of wood, exactly replicating the unique natural texture and detailed grain patterns for a one-of-a-kind look. This series comes in your choice of several color options — walnut, dark or medium finish, slate, black, white or primed.
Every one of our louver doors comes with Intellicore® insulation to maximize the energy efficiency of your garage. Add extra charm to your colonial home or modern farmhouse with custom shutter garage doors.
Bridgeport Steel Series


Bridgeport™ Steel Series garage doors from Clopay® will complement any home with their elegance and simplicity. Get steel garage doors that look like wood to fit your home exterior's classic style. These Shaker-style garage doors combine traditional wood stile and rail designs with the strongest, most advanced materials available. The durable three-layer steel construction and cutting-edge Intellicore® insulation give these doors exceptional longevity and minimal maintenance requirements.
Explore a wide array of style options with the Bridgeport™ Steel Series. You can choose between narrow or extended recessed panels, over a dozen window options and additional decorative hardware. These doors come in 14 factory finish colors, including oak and walnut finishes, plus many more custom shade options.
Gallery Steel Series

If you want the look of wood carriage house doors with the power of steel, the Clopay® Gallery® Steel Series has the garage doors you're looking for. You can incorporate the raised panel design into any home exterior, whether you're going for a simple look or a statement piece. Choose between medium, dark, walnut and slate ultra-grain oak finishes, or over a dozen factory and custom color options. Add decorative windows and hardware like wrought iron handles, hinges and plates for a truly classic look.
These Gallery® Steel garage doors are available in one, two, or three-layer construction and may include Intellicore® insulation if you desire. Customize these doors to fit your style, your budget and your needs. Embrace the vintage carriage house feel with reliable and easy-to-clean wood-look garage doors.
Contact DistribuDoors for Distinctive Faux Wood Garage Door Options
Whether you know exactly which faux wood garage door model you'd love for your home or you need a little help making a decision, contact DistribuDoors for more information about installing a brand-new, gorgeous garage door. We've been a leading garage door company in Seattle, provide free estimates on new garage doors and will give you the best customer service around.
Related Resources