Choosing the Right Commercial Garage Door for Your Business
Finding the best commercial garage door for your company will require patience and research, as different doors can benefit various industries. For instance, a restaurant may want a sophisticated garage door that can open during the summer for outdoor dining. At the same time, an auto repair shop would likely desire a series of functional panel doors to let cars in for repairs. Learn more about the different types of commercial garage doors below to decide which one is right for your business.
Insulation Levels for Garage Doors
Garage door insulation provides a variety of benefits for homeowners. Insulation in two-layer and three-layer doors creates an extra barrier, helping reduce noise, increase durability and improve energy efficiency. Depending on the garage door brand and design, insulation is typically made of polyurethane or polystyrene material, which are both safe and environmentally friendly.
Garage door construction plays a significant role in the safety and comfort of your home. Your garage door is one of the main entrances to your house and acts as a temperature and weather barrier, so proper insulation is crucial for keeping warm air in and cold air out. Here's an overview of the benefits of different types of garage door insulation.
Best Faux Wood Garage Doors

Updated 3/25/2022
There's nothing quite like the classic elegance of wood. This building material has been used for centuries to create home styles of every shape and size. And yet, today, wood is still a popular look that adds sophistication and functionality to any home. Even among garage door designs, wood is a coveted material to use. It blends seamlessly with other natural building materials and gives any home a classic look. Unfortunately, although owning a wood garage door is at the top of many homeowners' wish lists, it's not financially feasible. Wood garage doors are almost always more expensive than those that use other building materials.
Ultimate Buyer Guide: Contemporary Garage Doors in the Seattle Housing Market

Choosing the right garage door for your home is a big decision, and the right choice can drastically improve the safety, efficiency, appearance and value of your home. With so many selections out there, we want to help you narrow down your options.
To help you through the selection process, we've put together this garage door style guide for contemporary home designs in the Seattle area. At DistribuDoors, we believe garage door designs should enhance the architecture of your home and reflect your style. So, we've taken the best-rated garage doors and matched them with popular contemporary Seattle home styles.
Choosing the Right Garage Doors for Contemporary Homes
First, let's take a minute to clarify what we mean by "contemporary," because it can often get confused with the word "modern." Here's the difference:
Modern: Modern is a style of architecture established in the 1930s, and many Seattle area homes reflect this type of design.
Contemporary: Contemporary styles, on the other hand, are always changing and not necessarily specific to a period. Instead, they reflect what's current or popular. And, just to keep things interesting, the modern style is, in fact, contemporary — for now, at least.
Contemporary homes make you feel welcome and integrate today's style concepts with historical elements. Home designs create a comfortable atmosphere and embrace the outdoors. Some of the critical features of contemporary-style homes include:
Irregular, asymmetrical façades
Strong, geometric shapes
Use of natural light
Clean lines
Open floor plans
Flexible layouts
Large windows
One or two stories
Heating, cooling and plumbing systems that conserve energy
Sustainable materials such as bamboo or granite
Recycled or local building materials
The Best-Rated Contemporary Garage Doors
Contemporary garage door styles have clean lines and are made of glass, steel and wood. Whether your home is mid-century, split-entry, minimalist, cabin or modern, make sure you buy a high-quality garage door from a reputable manufacturer. We've compiled a list of the highest-quality and best-rated garage doors to enhance a contemporary-style home. They include:
Avante Collection: This collection from Clopay® offers contemporary aluminum garage doors with glass door panel options. This collection allows you to make choices about the amount of light you want entering your home. Color options include clear anodized, bronze anodized, black anodized, white, bronze, brown, Ultra-Grain® light cherry and Ultra-Grain dark cherry. These and other custom colors are available for glass doors and aluminum panels.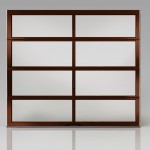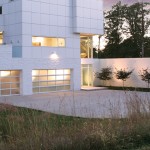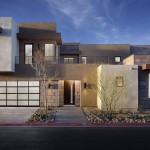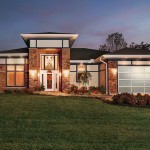 Modern Steel Collection: This beautiful Clopay steel-door collection is a perfect match for contemporary and mid-century modern style homes. Both flush and grooved steel panel designs are available in 13 different finishes, including Ultra-Grain. Textures vary by model and paint surface. Insulated and frosted windows with long and short designs are available, and optional window grilles can be removed for simple upkeep.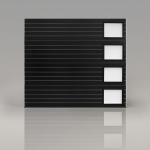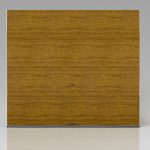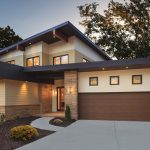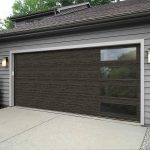 Canyon Ridge Modern: These contemporary faux-wood garage doors from Clopay highlight natural materials and textures and complement mid-century and modern style homes. Constructed from durable, composite material, these low-maintenance garage doors won't warp, crack or rot. Options include horizontal plank designs, aluminum inlays and full-view glass. Tempered glass is standard, and insulated glass options are available.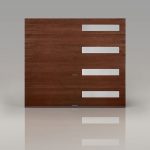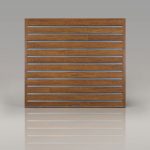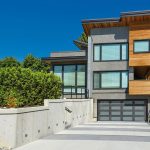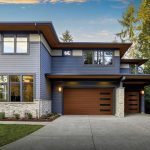 Reserve Wood Collection Modern Series: This stunning, versatile and dependable Clopay series emphasizes the beauty of natural wood and blends with your home's exterior. You can choose from a variety of materials and natural tones to create beautiful aluminum and wood garage doors that enhance your home. Doors can be primed, stained or painted white. Custom stains and colors are also available. You can choose from tempered glass, which comes standard, or frosted and obscure options. Certain models offer decorative accent strips to provide contrast.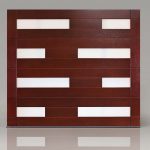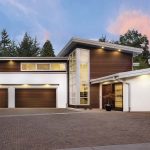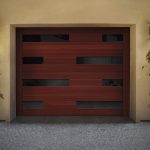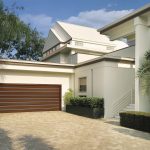 Model 8800: The full-view aluminum garage doors from Wayne Dalton complement modern homes and integrate indoor and outdoor spaces. Both powder coat paint and anodized finishes are available in clear, white, dark bronze and black. Clear, tinted, obscured and white laminated glass options are enclosed in durable, aluminum frames, which offer a contemporary look with the use of equal panel spacing.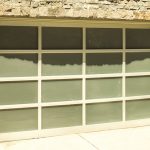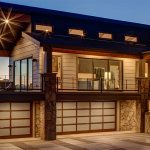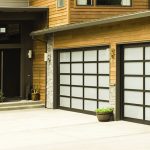 Modern Tech: These beautiful aluminum garage doors from Northwest Doors are reliable and energy efficient. Modern Tech doors are built with a sandwich-type construction using a steel face and thick core. Panels are flush and come in black satin, dark bronze, brushed nickel and bright white.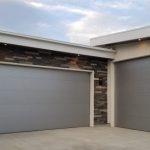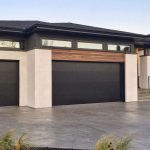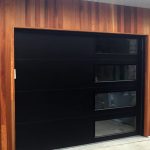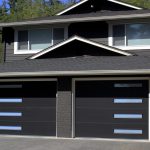 Common Types of Contemporary Homes in Seattle
There are several contemporary styles of homes in the Seattle area. Here are the five most popular styles of architecture in the area, as well as how to choose the perfect contemporary garage door to match them.
1. Mid-Century
Mid-century home designs were built between 1940 and 1975, and are some of the most conceptual architectural styles found in the Seattle housing market. This design is often called the "architecture of ideas," as those who began building in this style believed that they could use it as a vehicle for change. These conceptual aesthetics stemmed from the modernist movement of the midcentury, which was characterized by forward-thinking, simplicity and the integration of nature.

Families recovering from World War II created open living spaces with high-tech kitchens and outdoor views. Also known as mid-century modern, this style reflects a time when the economy was sound, suburban and urban lifestyles were popular and new building materials, such as steel and plywood, and construction methods were on the rise. The goal was to provide suburban dwellers with a new way of thinking about what residential living could be, beyond the cookie-cutter housing prevalent during this time.
The concept behind the mid-century modern design is to bring the outdoors in. Mid-century modern homes have somewhat shallower roofs and less attic space — if any at all — which allows for taller ceilings with exposed beams. Windows are large and may run from floor to ceiling, letting in lots of light over open floor plans. Living rooms are typically bright and impressive, though the bedrooms below ground don't get much light. Many mid-century modern homes are influenced by the designs of famous architect Frank Lloyd-Wright.
Mid-century style homes, such as those between 156th Avenue and Lake Sammamish in Bellevue, boast cathedral ceilings and decks overlooking beautiful gardens. Their vaulted ceilings, walls of windows and carports connect homes with outdoor spaces. Thanks to the popularity of the retro television series "Mad Men," the demand for mid-century houses is experiencing a resurgence.
Common features of Mid-Century Homes:
Flat Planes: Roofs are often flat, although ranch-style homes often have gables. The overall lines of the house are ordinary yet severe.
Large Windows: Light comes into the home from multiple angles through sliding-glass doors and large panes of glass.
Elevation Changes: Small steps and partial walls break up the living space, offering a split-level effect.
Connection With Nature: Large windows and multiple access points integrate the home with the outdoors.
GARAGE DOOR RECOMMENDATIONS FOR MID-CENTURY HOMES
If you're in love with the aesthetic of mid-century modern homes, then it's essential to find a garage door that suits this style. The contemporary garage door styles available through DistribuDoors are the perfect match to the distinctive style of a mid-century house. After all, many of the design aspects of this seemingly simplistic architecture can be found in the garage doors that we sell.
As this style is characterized by a futuristic approach to design, some of the more contemporary aspects of our garage doors find their match in mid-century homes. This includes the use of modern building materials like aluminum and asymmetrical design layouts. However, our contemporary garage doors also share an appreciation for the outdoors, which mid-century houses are known for thanks to their use of wood and faux-wood materials, plus the extensive use of glass to allow more light to come through these garage door windows.
If you're looking for a garage door to match your mid-century home, here are some excellent options provided by DistribuDoors:
Avante Collection
Modern Steel Collection
Modern Tech
Canyon Ridge Collection Modern Series
Reserve Wood Collection Modern Series
2. Split-Entry and Split-Level
Back in the 1950s and '60s, the split-entry home emerged in American suburbs. Also known as "split-levels," these homes were appealing because they were bigger than a bungalow, a standard home purchase at the time, and affordable, fitting on a smaller lot than expansive ranch-style homes. Split-level homes, along with ramblers, dominated subdivisions in many communities in the 1960s.
In 1969, The Brady Bunch sitcom premiered, showing the American people a split-level home could work for a large, blended family and a housekeeper. After the show aired, split-level home styles grew even more popular for families in the 1970s. Many of these homes are still in existence and affordable in the Seattle area. The open floor plans are great for entertaining, and the downstairs areas can easily work as an in-law suite or a hangout area for the kids.
Common features of Split-Level Homes:
Landings: The front door is at ground level. When you enter the home, the landing typically sits between the upper and lower levels.
Two Sets of Stairs: Off the landing, one set of stairs usually heads up, and the other down.
Formal Living Spaces and Bedrooms on the Top Floor: The kitchen, living room, dining room, bedrooms and bathrooms are typically all on the top floor. The upstairs ceilings are higher than those downstairs.
Informal Spaces Downstairs: Recreation rooms, family rooms, garages and other informal areas are typically on the lower level.
Garage Door Recommendations for Split-Level Homes:
Reserve Wood Collection Modern Series
Canyon Ridge Collection Modern Series
Modern Steel Collection
3. Northwest Contemporary
As designers in the 1980s began to use space efficiently by incorporating all square footage, the Northwest contemporary style of homes emerged. Also referred to as minimalist, Northwest contemporary designs strive to bring the beauty of the outdoors inside.

Influenced by Frank Lloyd Wright's design movement, these minimalist homes are simple and functional with natural elements integrated into their construction. Wood is used extensively both inside and out, and windows are expansive.
Common features of NW Contemporary Homes:
Asymmetrical, Open Floor Plans: An open flow through the home promotes a comfortable, welcoming experience.
Wood Construction: Wood is prevalent inside and out.
Medium- to Low-Pitch Roofs: Roofs vary in pitch and have deep overhangs.
Large Windows: Large window panes and sliding glass doors allow for lots of natural light.
Minimalist Design: Lines are clean, sleek and without ornamentation.
Incorporation of Natural Surroundings: Room layouts integrate views of natural surroundings.
Garage Door Recommendations for NW Contemporary Homes:
Modern Tech
Avante Collection
Canyon Ridge Collection Modern Series
4. Cabin
Swedish settlers brought the concept of cabins to America when they arrived in the 1600s. Then, in the 1800s, frontier families constructed cabins from round logs — there was no time convert the wood to lumber. No nails and few tools were available, so logs were sealed together with plaster, mortar, moss or dried manure. Settlers constructed cabins quickly and cheaply and didn't worry much about the details.
Homesteaders in the American West built cabins that met their basic needs. Often constructed as temporary shelters, they didn't have plumbing or running water. The Homestead Act of 1862, however, required cabins to be at least 10 by 12 feet in size with at least one window made of glass.
Cabin-style homes typically consist of one room, which is sometimes divided, and a loft area for sleeping. The roof of the cabin is steep to protect it from rain and snow, and a woodstove or fireplace is the only means of heat and the only source for cooking. Today's cabins are often used for vacation homes near lakes or in snowy areas.
Common features of Cabin Homes:
Construction of round logs
Garage Door Recommendations for Cabin Homes:
Avante Collection
Canyon Ridge Collection Modern Series
Reserve Wood Collection Modern Series
5. Modern
In the 1930s, modern architecture influenced design movements in the United States. Inspired by the historical modernist art movement, designs rebelled against tradition. Architects began to think differently about how people could live in their homes, and they began to experiment.

During this time, modern architects embraced free-flowing spaces and rejected ornamentation and clutter. They constructed new homes with materials that were progressive at the time, such as steel, iron, concrete and glass, and integrated living spaces with technology. Modern architecture, however, was criticized for the lack of privacy, common areas and incorporation of green space.
Common features of Modern Homes:
Open Living Spaces: The free flow of spacious floor plans combines spaces for entertaining and relaxing.
Clean, Geometric Lines: Simple lines are incorporated throughout the modern home, and details are spared.
Progressive Materials: The use of technologically advanced materials such as steel, iron, concrete and glass replace traditional wood and plaster.
Function Over Form: Thanks to the pioneers of modern architecture, these homes are large and open to accommodate any purpose, while promoting a feeling of togetherness.
Garage Door Recommendations for Modern Homes:
Avanate Collection
Modern Tech
Modern Steel Collection
Contemporary Garage Door Experts: DistribuDoors
DistribuDoors offers the highest-quality garage doors at affordable prices and the best installation services in the Seattle area. We've been here for 30 years and carry the very best brands, including Clopay, Wayne Dalton, Northwest and more.
At DistribuDoors, we offer the complete package of excellent products, service, installations and warranties. We sell contemporary garage doors backed by the Good Housekeeping Seal and have an A+ rating with the Better Business Bureau. We're the best in the industry, and we want to help you find the perfect garage door for your home. Sometimes the process can be overwhelming, and we're here to help. Many factors go into the selection process — you want to consider price, of course, as well as door materials and architectural style. Let us help you make the best decision for your wants and needs.
Our team of experts believes a garage door should reflect and enhance the architecture of your home. Our garage doors embrace the concepts of clean lines, geometric shapes and use of natural light. Whether your home is mid-century, split entry, Northwest contemporary, cabin or modern, we have the garage door design to match.
If you're looking for the ideal garage door for your contemporary home in the Seattle area, contact us or stop by our location, and we'll guide you through the process. We're here help you find a high-quality garage door that will enhance the beauty and style of your home. For more information, call us today at (206) 443-1640. We'll answer all your questions and help you through the selection process.