TRADITIONAL GARAGE DOORS IN SEATTLE
If you are planning to replace your garage door with an upgrade, a traditional garage door from the Clopay® CLASSIC™ collection can deliver the form, function and optional features you want. These doors are eye-catching and provide excellent security for your home and resistance to the elements.
THE MOST FREQUENTLY ASKED QUESTIONS ABOUT TRADITIONAL GARAGE DOORS
Traditional garage doors are versatile, and you can find them in virtually every neighborhood. These doors look great on various home styles, including conventional and ranch-style homes, and homes made with clean lines and balanced architecture.
WHAT IS A TRADITIONAL STYLE GARAGE DOOR?
Traditional garage doors have long been the go-to choice for homeowners looking to achieve a clean and classic look. These doors are easily identifiable, and you can spot them by their trademark appearance — identical rectangular panels placed alongside and atop one another. These doors can also come with windows installed along the top row.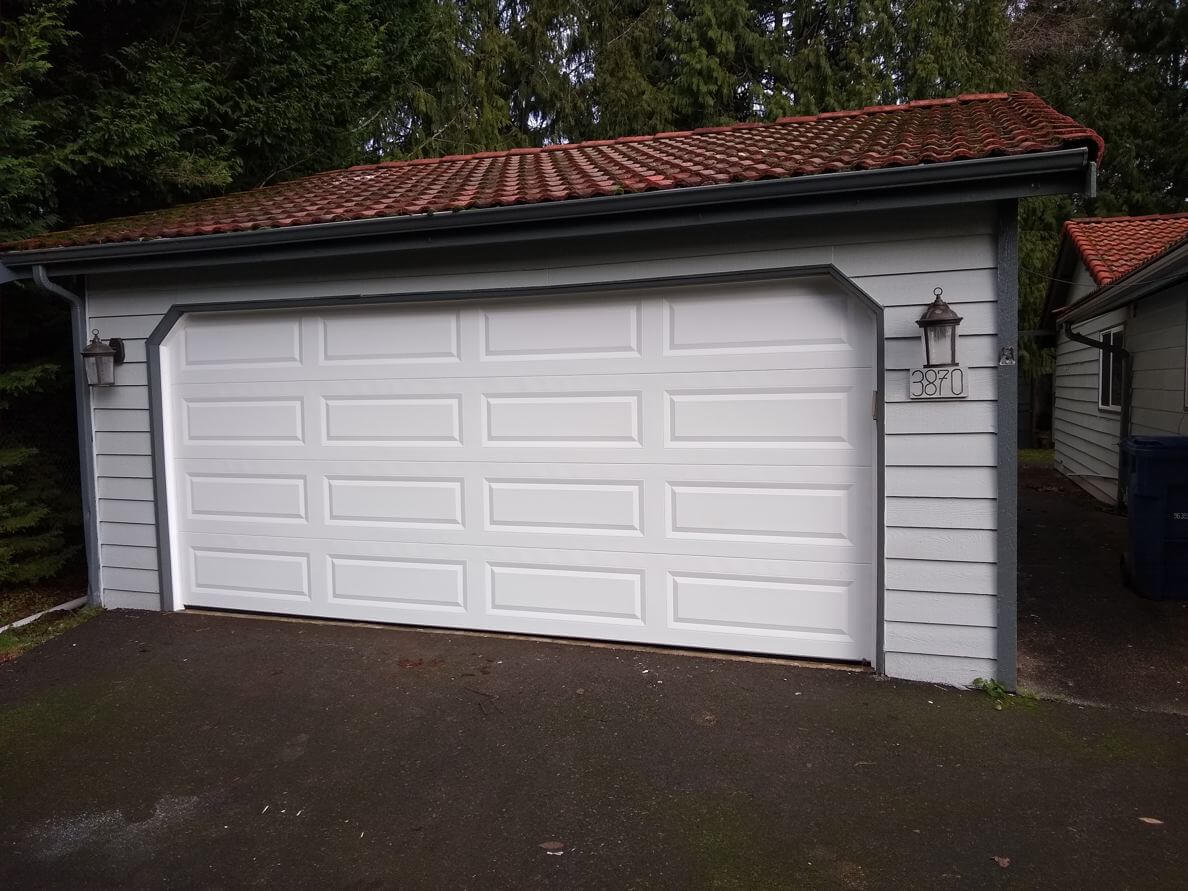 WHAT ARE TRADITIONAL GARAGE DOORS MADE OF?
Clopay CLASSIC™ collection traditional style garage doors come in
durable steel
or elegant
natural wood
. With steel doors, you can choose one, two or three-layer construction and add different insulation types in varying thicknesses. Steel traditional garage doors are durable and require little maintenance. You can also add color with one of our available paint options. Wooden traditional style garage doors come in several wood species and provide a natural, hand-carved look that will make your home stand out.
DO TRADITIONAL GARAGE DOORS HAVE FLUSH OR RAISED-PANELS?
CLASSIC™ collection steel doors are available with raised panels. On the wooden doors, you have a choice between raised panels, recessed panels and flush panels. On both steel and wood doors, you can choose between long or short panels. Panel size is aesthetic, and both are popular, with long panels often ideally suited for doors covering larger openings or for minimalist applications. We also offer an extensive selection of decorative window inserts with glass options that add attractive accents and provide your garage with extra natural light.
WHAT COLORS CAN TRADITIONAL GARAGE DOORS COME IN?
These doors allow color customization to achieve the right look for your home, whether you are looking for a complementary shade or a bold and striking contrast. CLASSIC™ collection Value and Value Plus steel traditional garage doors come in five factory colors, and the Premium Series offers eight, including white, desert tan, gray and hunter green. With the CLASSIC™ WOOD collection, you can choose between Ultra-Grain® stain, a primer coating or a white finish paint coat.
HOW MUCH DO TRADITIONAL GARAGE DOORS COST?
These doors are an affordable home upgrade, but prices will vary based on the door size and style, and whether you have a single or multi-vehicle garage. We have different styles to choose from and a wide range of customization options that deliver all the features you want without going over budget. If you request an estimate, one of our experts will be able to provide you with an exact cost for your custom door and professional installation.
ORDER A NEW GARAGE DOOR FOR YOUR HOME
At DistribuDoors, we exclusively offer garage doors from Clopay. We will provide you with a free estimate on a new traditional garage door built to size and custom-made for your home. Call (206) 445-7698 today to schedule your estimate or
contact us online
for expert assistance.