Home Garage Doors in Seattle
Did you know more than 70 million single-family homes in the United States feature garage doors? Residential garage doors have replaced the front door as the primary entry and exit point for families across the country, but, if we're honest, they are also one of the most overlooked features in a house. Why? Garage doors are just one of those things we take for granted. Sure, they open and close multiple times a day, protect your vehicle when it's not in use, and serve as a barrier against the elements, but when was the last time you stopped to admire your garage door as an attractive feature of your house? Most people don't think about their garage door — until it's time to buy a new one. Since 24% of Americans have moved within the last five years, and the average garage door lasts nearly 30 years, the odds are pretty good that if you're in the market for a few garage door, this is probably the first time you've ever had to select one. If you're looking for residential garage doors, you'll find a lot of options on the market today, but not every door is necessarily the right choice for you. How do you decide?
Things to Consider When Buying a Garage Door in the Seattle Area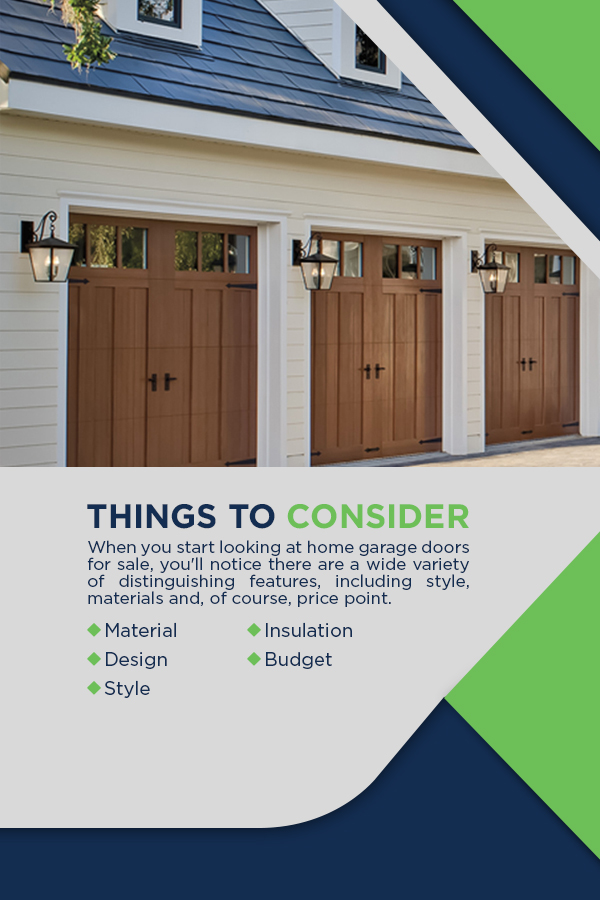 When you start looking at home
garage doors in Seattle
, you'll notice there are a wide variety of distinguishing features, including style, materials and, of course, price point. So how will you know which option is best for your home? The best thing to do is find a door that provides a mixture of fashion, function and affordability. In other words, find a door that looks good, works well and will work with your budget. To do this, there are a few terms you'll want to familiarize yourself with first.
1. Material
Garage door manufacturers use a variety of materials, including wood, steel, aluminum, vinyl and fiberglass. Choosing the material that's best for you will typically depend on two things: the climate where you live and the budget you have. The material of your door should be able to withstand the climate and weather in your region. If you live in
Seattle
, where the average winter temperatures hover in the mid-40s, you'll want to select a material that will hold up well to moisture and cooler temperatures. For those living in drier climates or coastal regions, different materials may be beneficial.
2. Insulation
While an insulated garage door isn't the only way to
improve your home's overall energy efficiency
, it will undoubtedly go a long way in improving the temperature in your home. An insulated garage door can minimize thermal energy transfer, as well as block potential air leaks, which can ultimately save you money on your monthly energy bills. If your garage shares a wall with your home, it's important to consider upgrading to an insulated garage door to keep outdoor air outdoors and away from your home's interior. Insulated doors are a good idea if your garage also doubles as a workspace, since there are several advantages to keeping the climate in the garage at a more moderate temperature.
3. Style
There are several eye-catching garage door styles on the market today, including carriage-house style, contemporary and traditional. The best way to narrow down your options is to first look at the architecture of your house. For example, if you own a historic home, such as a Victorian, you'd do well to focus your search on carriage-style doors because of their traditional look. On the other hand, if you own a modern home
in Bellevue
, you might want to consider a more contemporary design that has a lot of windows in it. If you aren't sure what will work with the architecture of your home, your local garage door company can help you narrow down your options, thanks to digital software that allows you to see what different doors would look like on your home, such as 
Clopay's Door Imagination System
.
4. Design
Design is similar to the style of a garage door, but it's more than the overall look of the door. A garage door's design includes its windows and any decorative hardware that might come with it. Typically, you can purchase garage doors with windows or without. It all depends on your preferences and the style of your home. There are a variety of ways to add windows — horizontal or vertical, large or small — to incorporate the overall look of the door with the design of your home. The design also includes the door's finish. These days, steel and fiberglass doors can feature a wood composite overlay that makes them look like real wood. Doors can also come painted in a variety of colors to coordinate with your house and personalize the design. If there's a certain color or design element you're looking for, make sure to ask up front which materials will offer that specific option.
5. Budget
The other consideration when you're looking at the variety of garage door materials out there is your budget. Wood is more expensive than steel or aluminum, so if you're on a tight budget, it may not be the right choice for you. And, while you're most likely focusing on the initial costs of the door, remember to factor in maintenance costs over time. Wood doors are much more high-maintenance than some of the other options on the market, so if you don't want to shell out more time and money down the road, it may not be the best choice for you. So how much does a new garage door cost? Costs will vary depending on the material, style and whether or not it's insulated. However, one essential thing to consider is that garage doors have a 
98.3% return on investment
. In other words, a new garage door will almost pay for itself when you sell your home. If you're planning to sell soon after getting the door installed, there may be some benefit to choosing a more expensive material. Improving your home's curb appeal can be just the push your house needs to appeal to potential buyers. Indeed, 
70% of real estate agents say
a new garage door will help a house sell faster, so you'll improve your chances of making a sale quickly and then make most of the money back when it happens.
Garage Door Material Options

While all five of those factors 
— 
material, style, design, budget and insulation 
— 
are critical considerations, ultimately the material you select for your garage door is one of the essential factors when you're looking for a replacement. Before you pick a color scheme or additional design elements, you must know what kind of door you're looking for.
1. Steel — and Wood Composite
Steel garage doors are an excellent option because they are durable, yet come in a variety of attractive designs and colors. The cool thing about steel is that it can form the door's "core," or interior layer, but then get overlaid with something like a 
wood composite that gives it a more rustic, traditional look
. When you choose a steel door, you are getting a durable door that's designed to hold up well to daily wear and tear, both from weather and from your family. While we can't promise these dent-resistant doors will always be dent-free, on the rare occasion that one occurs, it's relatively simple to repair. This versatility is also what makes steel doors a more budget-friendly option for those who want a beautiful door, but don't want to spend as much. There isn't much we can say that's negative about steel doors, other than to remind you that even steel doors with a wood composite overlay aren't real wood. From a distance, you won't notice the difference, but if you're a purist who wants the authentic wood look, you may want to invest in wood as your garage door material instead.
2. Wood
Wood garage doors
are popular because of their elegant, traditional beauty — they 
make just about any house look classy
. Because they are made to order, wood doors come in a wide variety of colors and stains, and they are also available in many different designs. You can even get them customized to your exact specifications. Because of their individually crafted nature and the material value, wood doors tend to have a higher price point than doors made from other materials. Wood doors also require some maintenance over time because they need to get sanded and re-stained every few years to keep them looking polished and free from cracks and scratches. Long-term exposure to moisture can damage wood garage doors. If you purchase a wood door for use in a high-moisture climate such as Seattle, regular maintenance will keep your door beautiful while maintaining its integrity over time. Many homeowners who appreciate the quality and construction of wood garage doors find this investment in their home to be well worth it.
3. Aluminum
Aluminum-frame garage doors are often in a more 
contemporary style
 — ones with windows or without. Aluminum is rust-proof and it looks sleek and modern, especially when paired with a series of glass panels designed to let a lot of natural light into your garage space. You can get their frames painted in one of a variety of solid colors to coordinate with the rest of your home's exterior. Not all aluminum doors have a contemporary look. Aluminum doors are also 
an inexpensive option for a more traditional garage door
. Besides being weather-resistant, aluminum doors come in a variety of styles, including carriage-house style and wood look. The downside to aluminum doors is that the material dents easily. So, if you have a teenager who loves shooting hoops in the driveway or a 5-year-old learning to ride a bike, an aluminum door might not hold up to the wear and tear it's likely to receive.
4. Fiberglass
Fiberglass doors are a great option when you need a durable door that won't easily rust or crack. They're also resistant to moisture and salt, which often makes them an excellent choice for homes along the coast. Fiberglass doors are also relatively inexpensive, which makes them appealing to homeowners who are on a budget. The downside to fiberglass doors is that they are subject to cracks in freezing weather and damage from high winds, and they do tend to yellow over time. Unfortunately, if you have a damaged fiberglass garage door, you will most likely need to get it replaced, rather than repaired.
5. Vinyl
Vinyl garage doors have a reputation for their durability — they're nearly impossible to dent — and their maintenance-free nature. They don't need refinishing every couple of years, and they stand up to the elements. They're also relatively inexpensive. However, vinyl doors only come in a limited variety of colors, so they may not be the best option for someone looking for a custom look for their garage door.
Popular Garage Door Styles in Seattle

The style you select for your garage door will depend on the architecture of your home, as well as the overall aesthetic of the neighborhood where you live. To do this, it can help to get an idea of Seattle garage doors and what's popular in your area.
1. Traditional
Also referred to as "classic," these doors are the traditional paneled doors. But don't let their name fool you. It's possible to customize these doors with short or long panels, windows, decorative hardware and a variety of paint colors or finishes.
2. Contemporary
Known for their clean lines and modern look,
contemporary garage doors
are an ideal option for a more modern home. Often, these windows will have large panels of glass in them, allowing a lot of natural light into your garage.
3. Wood Look
Many times, a "wood-look" garage door will be made of wood. Other times, this name is referring to 
a door that looks rustic
. Rather than getting painted to match a particular color of siding or shutters, you can get these doors stained to mimic the natural grain of the wood. If you like the look of a wood door but don't have the budget for one, consider a steel door with a wood composite overlay. It's got the look of real wood but not the price tag associated with it.
4. Carriage-House Style
A
carriage-house-style garage door
is exactly what it sounds like. Imagine an old-fashioned carriage house door, something rustic and sturdy, yet beautiful. While these doors may look nostalgic, they're modern in every sense of the word. Available in a variety of designs and materials, carriage house doors are a great way to give your home a unique, yet traditional look.
Residential Garage Doors for Sale

If you're in the market for a new residential garage door, it's essential to work with a garage door company known for providing an excellent product and outstanding service every step of the way. Having served the Seattle area area since 1985, the DistribuDoors team is
one of the best in the business
. As the leading Clopay garage door dealer in Seattle, we offer a wide selection of high-quality Clopay garage doors backed with our excellent customer service guarantee. If your garage door has seen better days, let DistribuDoors walk you through the entire process of getting it replaced. To schedule your visit to our Algona-based showroom, call us at 206-443-1640 or 
visit us online
 to see what we can do for you.