Finding the best commercial garage door for your company will require patience and research, as different doors can benefit various industries. For instance, a restaurant may want a sophisticated garage door that can open during the summer for outdoor dining. At the same time, an auto repair shop would likely desire a series of functional panel doors to let cars in for repairs. Learn more about the different types of commercial garage doors below to decide which one is right for your business.
Things to Know in This Article:
Commercial vs. Residential Garage Doors
What's the difference between a commercial and a residential garage door? The defining difference is in how the doors are used. Commercial doors open and close dozens of times each day and thousands of times each year. They need to be durable and resilient, with strong springs and hardware. By contrast, residential doors open and close just a couple of times a day. They should still be sturdy, but they don't need to be as tough as commercial garage doors.
Factors to Consider When Choosing a Commercial Garage Door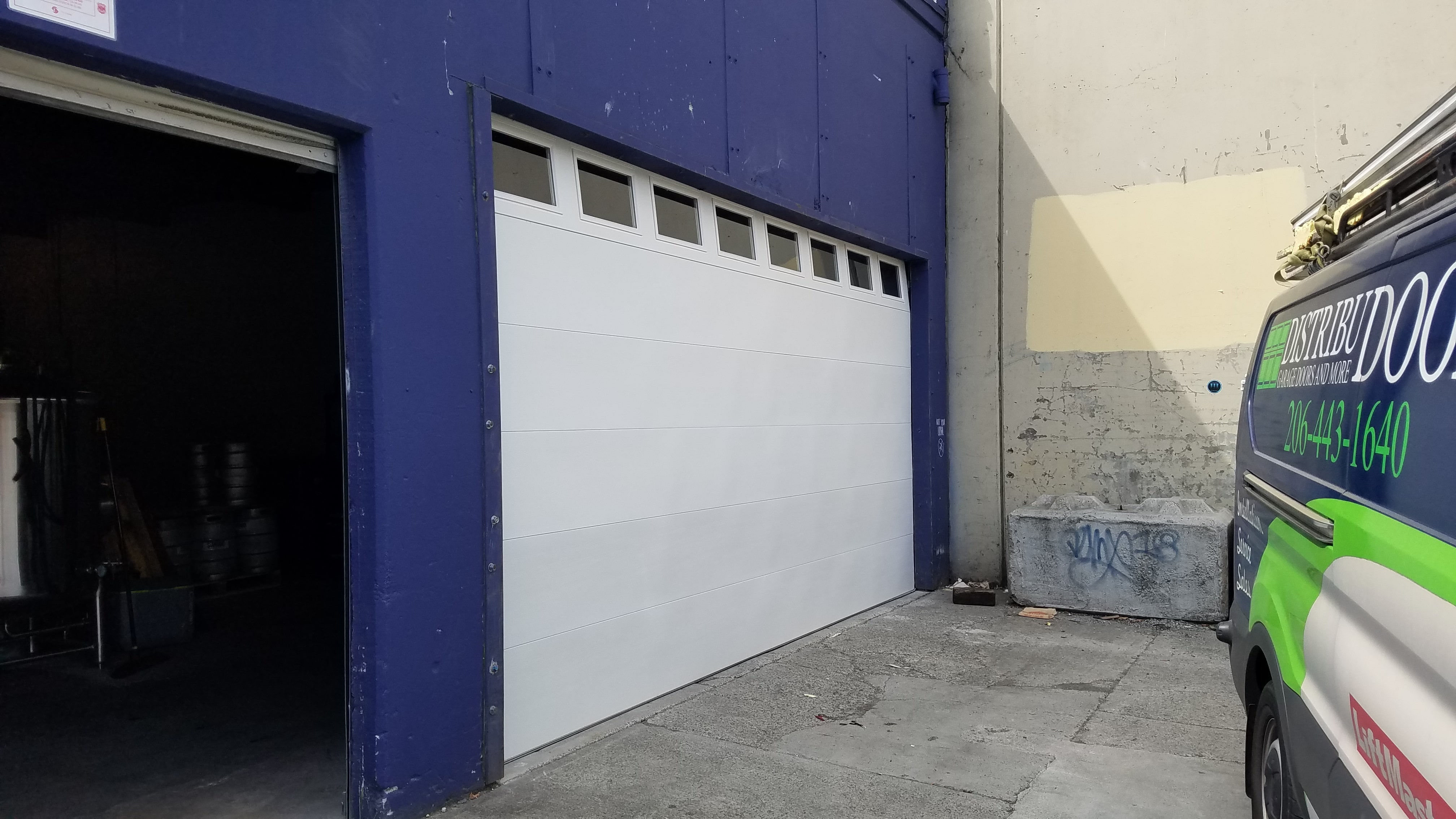 Price is one factor in your garage door decision-making. The door you choose must fall within your budget. Remember, you need a garage door operator that's powerful enough to open and close the door as well. Other factors you should think about include:
Door material: Material plays into appearance as well as functionality. Fiberglass and aluminum doors provide less insulation than stainless steel and steel doors and could be less expensive, but insulation may not be a concern depending on your business. A loading dock at a warehouse, for instance, may not require insulation, in which case a lower-priced door can work.
Energy efficiency: Keeping cold air out during the winter and warm air out during the summer can reduce the energy costs for your business. Many commercial garage doors come with energy efficiency guarantees — an essential consideration for companies that want to have a lower environmental impact.
Maintenance: Make sure you have the time and expertise to perform upkeep on any door that needs preventative care. For smaller businesses with fewer employees, a low-maintenance option may be preferable.
Industry: The field you're in also plays a role in determining the best door for your business. An auto repair shop, for instance, will have different needs than a warehouse. Some companies need doors that look nice and can be accessible to customers, while business-to-business operations may care less about aesthetics.
Types of Commercial Overhead Doors

With DistribuDoors, you'll be able to choose from a range of doors to meet your business's needs. You can even find counter shutters perfect for a store at the mall. Just a few other options include:
Whatever type you decide on, purchase a high-quality door that will last for a long time. DistribuDoors sells Clopay® commercial garage doors backed by the Good Housekeeping Seal of Approval, and we provide a price guarantee stating that we'll charge five percent less than the amount on any written offer from a competitor. Get in touch with us today to schedule your free estimate on new door doors.