Bridgeport™ Steel and Canyon Ridge® Louver Garage Doors
At DistribuDoors, we have two new garage door models from Clopay available for installation for your home in the Greater Puget Sound area. Both feature Intellicore® insulation to keep garages cooler in the hot summer sun, and warmer during cold winter months. Intellicore® also helps muffle sounds both ways for your added peace and privacy.
See what the Bridgeport™ Steel and Canyon Ridge® Louver have to offer.
Bridgeport™ Steel
Clopay Bridgeport™ Steel doors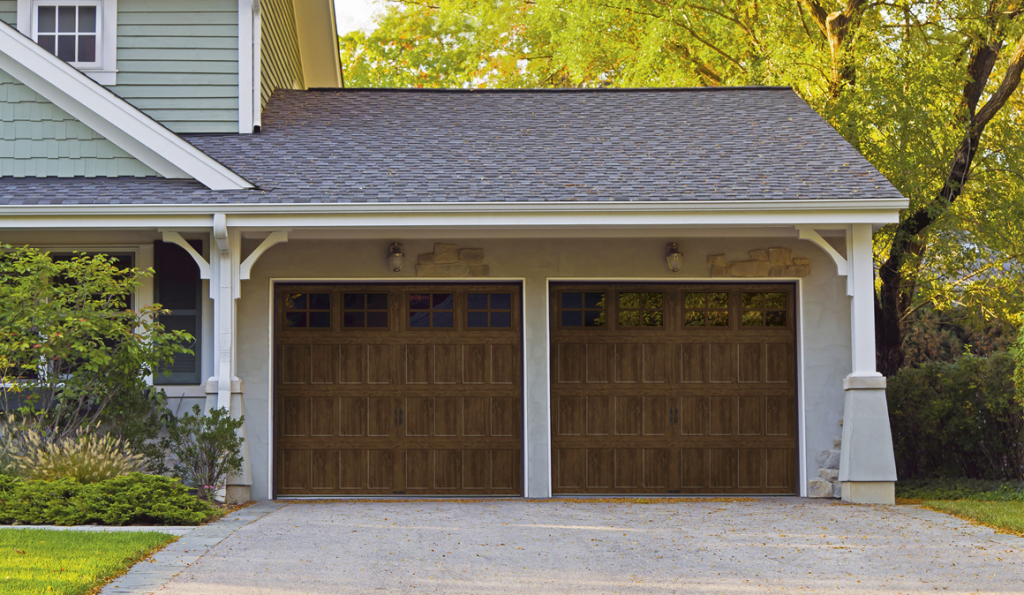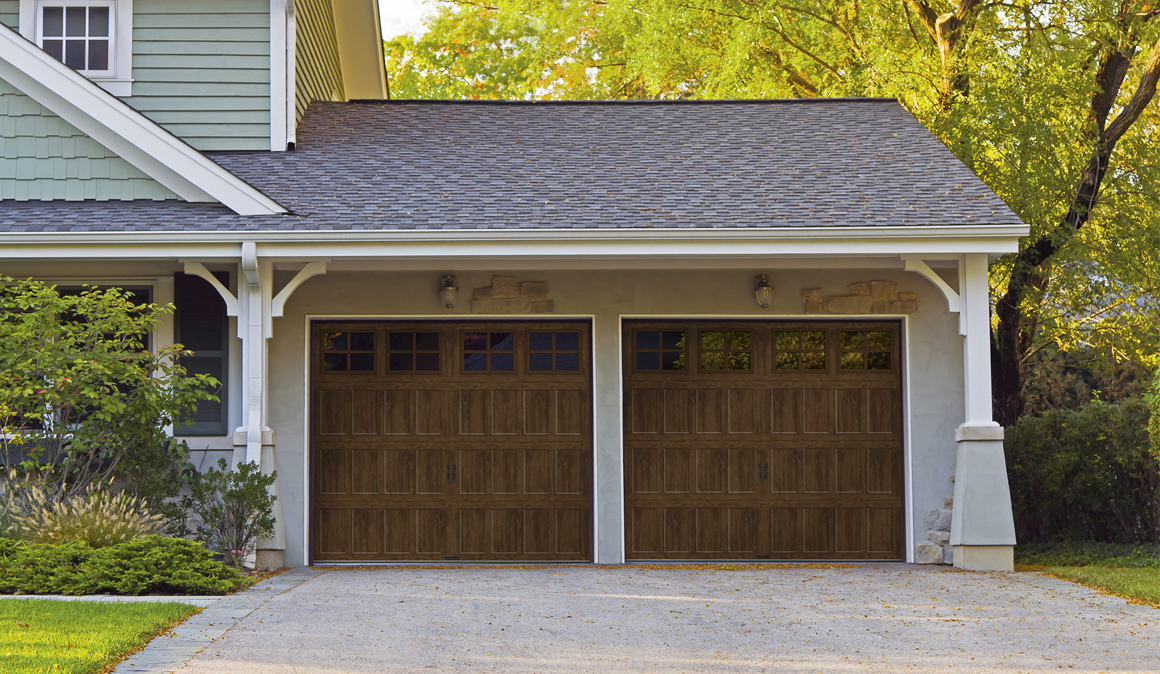 are insulated with a shaker-style recessed panel design. These doors combine the appeal of classic woodcrafted patterns with the added durability of a three-layer steel construction. Multiple color options are available to complement almost any home, including solid colors and several premium Ultra-Grain® patterns designed to resemble real wood grain.
Intellicore® insulation is standard on these doors, with your option of using a 2-inch or 1 3/8-inch layer. This technology provides excellent climate control advantages through advanced thermal properties, placing reduced demand on your HVAC system and lowering energy costs.
Bridgeport™ Steel garage doors feature panels in narrow or extended designs. You can order yours with solid top sections to match or select one with windows from a long list of attractive options. The windows are customizable with single-pane and insulated options — as well as clear acrylic windows — available in different patterns, such as:
Clear.
Frosted.
Seeded.
Obscure.
Rain-style.
These garage doors come backed by several manufacturer warranties, including a three-year warranty on the hardware, 10-year on the windows and a lifetime guarantee for the painted exterior. A standard, color-matched lift handle is included, but you can customize your handle and hinges from several additional options.
Canyon Ridge® Louver
The new Clopay Canyon Ridge® Louver garage doors offer the look of shutter-style doors with the modern advantage of overhead operation. They come in several attractive tones that complement a wide range of home decor styles, including solid colors and natural wood grain. Two-tone cladding and overlay combination options are also available for added design versatility.
These doors look just like real wooden shutters — and there are a dozen to select from for the right design. For example, multiple top sections can deliver the look you want to achieve, with frosted, seeded, obscure and rain available. You can also choose from solid top section designs for a seamless top-to-bottom look. Different hinges, decorative lift handles, a door knocker and escutcheon plates contribute to the door you want. Other customization options are available by request.
Intellicore® and Warranties
The Canyon Ridge® Louver door also comes with Intellicore® insulation technology. The five-layer design includes a 2-inch layer of insulation for added protection from noises and the outdoor climate — steel and composite make up the other four layers. These components are molded using pieces of natural wood for an authentic look.
Clopay Canyon Ridge® Louver doors come with two, five-year warranties — one covering the hardware and the other protecting against composite overlay delamination.
Learn More About These New Garage Doors for Sale
At DistribuDoors, we have over 35 years of experience installing and servicing garage doors across Seattle. Contact us today to learn more about these products and get professional assistance in designing your custom garage door. You can also reach us by calling 206-443-1640.
Insulation Levels for Garage Doors
Garage door insulation provides a variety of benefits for homeowners. Insulation in two-layer and three-layer doors creates an extra barrier, helping reduce noise, increase durability and improve energy efficiency. Depending on the garage door brand and design, insulation is typically made of polyurethane or polystyrene material, which are both safe and environmentally friendly.
Garage door construction plays a significant role in the safety and comfort of your home. Your garage door is one of the main entrances to your house and acts as a temperature and weather barrier, so proper insulation is crucial for keeping warm air in and cold air out. Here's an overview of the benefits of different types of garage door insulation.
How to Help Prevent Garage Break-Ins
Garage doors add a great deal of character to our homes and convenience to our daily lives, but they can also serve as an entry point for burglars.
You can prevent this from happening, however, by proactively taking steps to protect your belongings and family.
How to Fix a Garage Door When It Becomes Detached
Chances are, your garage door is one of the mechanical objects in your home whose smooth operation you take for granted. But when your garage door rollers detach from the track, repairing the problem should become a top priority. Some fixes are easy do-it-yourself projects, while others require help from a professional. Here are the most common reasons that garage doors detach from the tracks, how to fix the problem and what you can do to prevent it from happening again.
The Importance of Lubricating Garage Door Parts
Make a list of the important moving parts in your home, and you may not think to include your garage door. But chances are, your garage door is the biggest moving part in your home — and also one of the most important. Although these doors don't require a ton of maintenance, they do require basic upkeep, and that upkeep includes lubricating their moving parts.