Updated: March 29, 2022
One of the most critical features of your home is your garage door. It protects your vehicles and valuables from the elements and keeps intruders from entering your garage or house. As such a significant investment, doing your homework before choosing a garage door company is a step you can't afford to overlook.
When you're thinking about buying a new garage door or having your current door repaired, one of the most important parts of the process is finding a garage door company you can trust. With the rising number of garage door scammers tricking innocent homeowners throughout Seattle and the rest of the country, it pays to be prepared. Read on to learn the signs of a garage door scam company and how to find a trusted garage door provider in Seattle.
Check out our tips and tricks video for choosing a garage door company you can be confident in.
Tips to Avoid Choosing a Scam Garage Door Company
Video Transcript: Updated September 28th, 2018
"I'm Chris Hansen with Dateline NBC." Not what you want to hear if you're a garage door company about to overcharge your customer.
Fact. There have been numerous investigative reports on shady garage door companies throughout the country. It's a big problem. Fact. Fly by night companies will throw a sign on a truck and with limited experience pretend to have your best interest in mind. Fact. Doing your homework is time well spent. Be sure to search for reputable garage door companies. Find out what you need to be aware of from the large companies to one man operations. Fact. Choosing a trustworthy company such as Distribudoors can save you time money and frankly a lot of headaches.
Hi, I'm John Kocher owner of Distribudoors. We've been a family owned business for over 35 years. We put together this short instructional video to help you, our customer, make an informed decision when purchasing your new garage door.
Distribudoors was started in 1985 in Kent Washington. From the beginning customer service was our focus and driving force. We learned early on that if the customer was taken care of through our attention to details, quality installations and superior service we were taking care of in repeat business and referrals. A win-win situation. From our initial contact to the installation of your garage door our team works together to provide you the best experience possible.
To me, customer service means treating all of our customers first like their only customer. When we pick up the phone and help answer your questions many times we can solve problems right over the phone in a few minutes. My favorite is simply just helping the customers through the issues are having. They call. They're having a problem. They don't know what to do. Sometimes they're quite frantic & helping them through that calming them down is something that I enjoy doing.
To me, my service means seeing our customers throughout the entire process. That being the purchase of a dollar or a simple garage door service for your home. Customer service means giving the customer experience they could possibly have with our company. Distribudoors is committed to making your experience with us an exceptional one.
Whether for your home or business it's our mission to assist you in a comfortable and professional way. So you make an informed selection without the pressure. We're proud of our new show displaying a wide selection of quality options. An experienced and knowledgeable team members will answer all your questions to help in the decision-making process. If you're not able to come to our showroom it's not a problem. We have talented design consultants that will happily come to your home with samples and pictures. For a convenient and easy decision-making process.
Our technicians are often the face of the company. So we want the best working on your home. It won't take long to understand why Distribudoors is the popular choice for commercial and residential garage door service in the greater Seattle area. For one thing, our work is never subcontracted. You need to feel comfortable with workers in your home. It's important. When you call Distribudoors for garage door service you'll always get our actual experienced highly trained and background-checked technicians working on your door. We also know that price is important and often a key factor in your decision.
With Distribudoors you can rely on the fact that you'll always receive a competitive quote. We'll give you a fast, free estimate you can trust. You won't get a bill at the end of the job for more than you were quoted.
Thank you for watching the short video. I can't stress enough the importance of doing your research before you choose a garage door company. From the entire crew here at Distribudoors, we look forward to offering a seamless and comfortable experience for all of your garage door needs. Thank you for watching.
Current Garage Door Scam Companies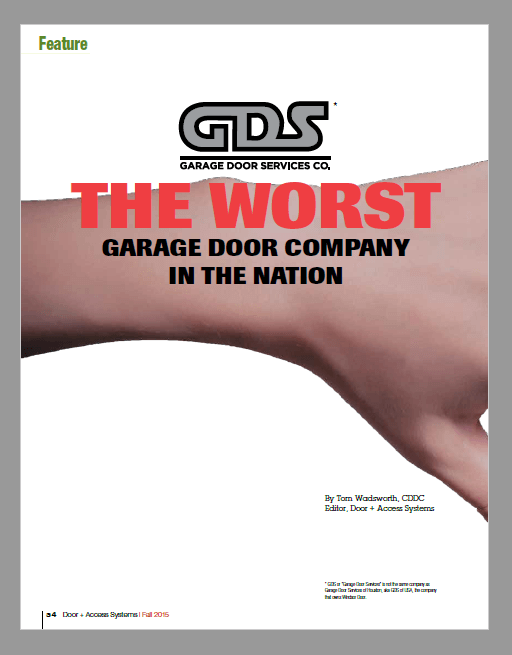 One of the most well-known garage door scammers throughout the years has been Garage Door Services — also known as America's Choice Overhead Door, First Choice Overhead Door, Discount Garage Door Services and more than 50 other names the parent organization, Global Development Strategies, has registered since 2009. The company deliberately overcharges customers and uses scare tactics to make homeowners pay for services they don't need.
The scheme has gotten so out of hand that the company was featured on a 2002 episode of Dateline NBC and deemed "the worst garage door company in the nation" in the Fall 2015 issue of DASMA's Door + Access Systems magazine. Yet, they continue. By frequently changing the names of their local operations and mimicking the names and ads of trusted local garage door companies, they've managed to stay afloat and continue to rip off customers in cities nationwide.
Unfortunately, GDS isn't the only company known for its scam tactics. Small local companies can pop up and disappear in a matter of months, often targetting homeowners with promises of cheap emergency services. In 2011, Dateline NBC uncovered that two out of 10 local businesses contacted tried to scare and overcharge homeowners for parts they didn't need.
Signs of a Garage Door Scam Company
Whether you're dealing with a branch of GDS or a small local scam operation, it can be hard to tell who you should trust for your garage door repair or replacement. After all, no dishonest company is going to advertise that its services are a not legitimate. However, there are some common signs you can look for to judge whether a garage door company can be trusted. Here are eight signs that a garage door company is a scam.
1. Changing or "New" Company
Many garage door scammers such as GDS can stay in business even long after their scam has been uncovered. These scammers can con homeowners for years by simply changing their company's name. They usually use generic names such as "Garage Door Repairs" but may also latch onto the reputation of trusted local garage door companies by using a similar name and logo.
If you notice a new garage door company popping up and disappearing every couple of months or ads with misspelled or confusing company names, it could be a sign that their services are a scam.
2. No Real or Permanent Address
A physical address shows stability and a dedication to a company's industry and client base. Most scam companies don't work out of a physical location, which can be a sign of inexperience when dealing with a garage door provider.
Many legitimate garage door companies have a showroom, which can assure you that you're dealing with a reliable professional rather than a company operating out of a vehicle and a local P.O. Box. If the company won't welcome you to a physical location or tries to dodge questions about their office or showroom, they may not be working out of an actual building at all.
3. Prices That Sound Too Good to Be True
In 2013, Door + Access Systems magazine exposed Run Local Garage Door for charging a mere $29 for initial service calls — far less than the fees of any reputable service provider — and later raising the price for unnecessary extra repairs. Scammers like this often reel in desperate homeowners by promising a surprisingly low initial bid, but then later escalating their fees.
While many companies offer free estimates, if your repair or replacement quote sounds too good to be true, it probably is. Most trusted technicians charge $100 or more for local service calls, and reputable garage door providers don't offer "one day only" discount pricing.
4. Unprofessional Attire or Work Vehicle
Trusted garage door service providers operate company vehicles with the company name, address and phone number clearly shown. Technicians should arrive nicely dressed in a professional uniform that typically features their name and company logo, as well. Any garage door technicians who come to your home in an unmarked vehicle without professional clothing aren't generally working with reputable businesses.
5. No BBB Rating or History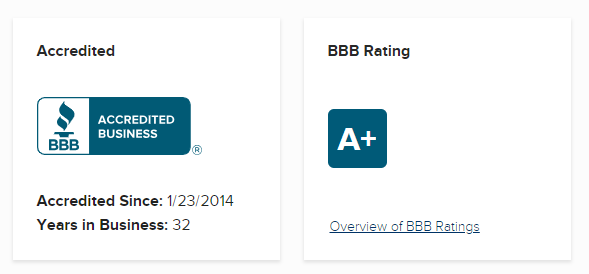 If the Better Business Bureau accredits a business, it means the company meets strict accreditation standards. The BBB continuously monitors these companies to ensure they uphold the organization's lofty standards. While a high rating doesn't necessarily indicate good workmanship, BBB accreditation often means the company is trying in good faith to advertise honestly and build consumer trust. A business who isn't BBB-accredited or has no history is most likely not a reputable source.
6. A Nonexistent or Extremely Vague Website
In today's electronic age, any trusted garage door company will have a functional website to advertise its locations, products and services. Businesses without a website likely shouldn't be trusted to handle your garage door repairs. At the same time, just because a company has a running site doesn't necessarily indicate trustworthiness.
Anyone can build a free website in little time. Numerous fake garage door repair sites have popped up over the years, many of them targeting Seattle and hundreds of other cities in their domain names and descriptions. However, a reputable website takes time and effort to build. Trusted garage door companies will list products and service locations on their site, and many have blogs or news feeds to establish themselves as industry leaders. Poorly designed sites will be apparent when compared to the website of a reputable company.
7. No Reviews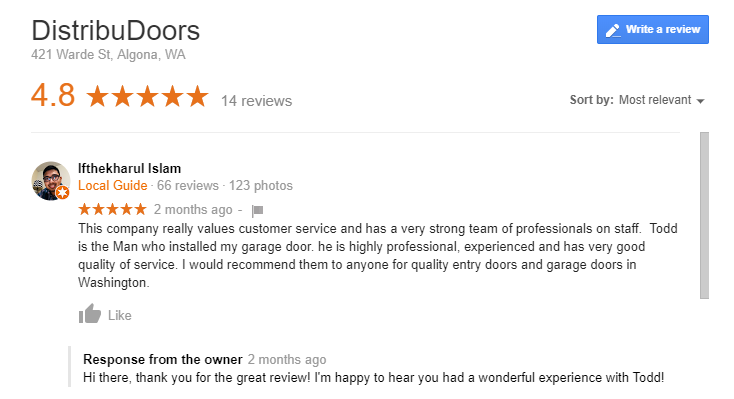 Many company websites offer a helpful list of reviews and testimonials, but you shouldn't solely rely on these reviews for guidance, as scammers can create them artificially, too. Third-party review sites such as BBB, Google, Angie's List and Yelp are essential in learning about a company's quality and reputation from actual customers — it's a bad sign if no outside reviews exist for an organization. This could mean the company recently changed their name to continue a local scam operation.
8. Excessive Advertising
Scammers are exceptional at getting the word out fast about their businesses. With an abundance of Internet ads available for purchase that target local consumers, it's easier than ever for garage door scam companies to pop up seemingly out of the blue.
Whether you find physical advertisements such as billboards or online ads on Google, pay attention to any excessive advertising techniques. If a company you've never heard of is suddenly advertising crazy deals everywhere you look, they're likely trying to get as much money as they can now, so they can cash out quickly.
How to Find a Trusted Garage Door Company
Luckily, finding a trusted garage door company for your Seattle home's garage door replacement or repair doesn't have to be a hassle. Read on to learn where to look for a garage door company, what to look for and how to double check their reliability and reputation.
Where to Look
Use the following tips when searching for a legitimate garage door company:
Check for a Google Guarantee: If you're still searching for a reputable business to service your garage door, Google Guarantee can help you find a trusted provider. The Google Guarantee badge appears on search results of Google-backed home service ads. If you book a Google Guarantee-protected service through Google's Local Service ads and aren't satisfied with the work quality, Google may refund the amount you paid up to $2000. All businesses who acquired the guarantee have undergone a strict screening process, giving you confidence in your decision. Just type "garage door repair services near me" or something similar into Google, then search through the Local Service ads for the Google Guarantee badge.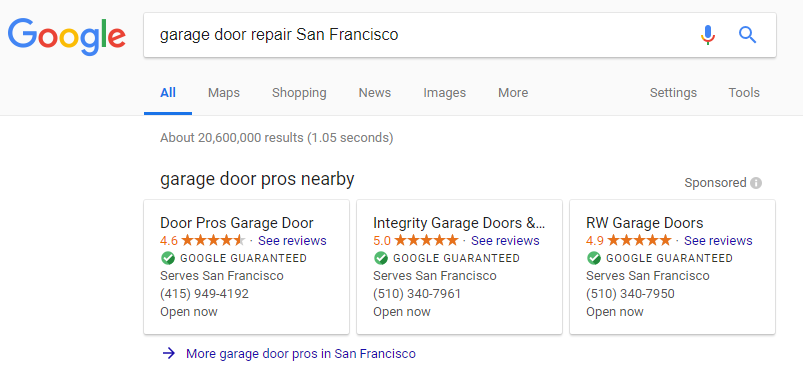 Check Trusted Third-Party Sites: Review sites such as Home Advisor, Angie's List, Yelp and other third-party services can immediately show you the top-rated garage door companies in your area and their reputation among customers. A simple search for "garage door repair" will provide you with much of the information you'll need to make an informed choice. Just keep in mind that scammers can sometimes manipulate reviews, so pay attention to any especially repetitive or poorly written comments.
Check Their Website: When you've found a company you're interested in working with, go to their site and check all logos, phone numbers and addresses on the site against advertisements to make sure their information is consistent and doesn't contain discrepancies. You should also pay attention to the site's content and quality. Most reputable companies will list reviews and accreditations somewhere on the site, so you can cross-check information and guarantees with an outside source. Another pro tip is that especially quality minded garage door companies will take the time to have an informative blog section on their site. You should not only check to see if a garage door company has a blog, but check to see how long they have been posting blogs and read a few to see the quality. A scam or low-quality garage door company won't take the time to write original blog posts with important garage door information.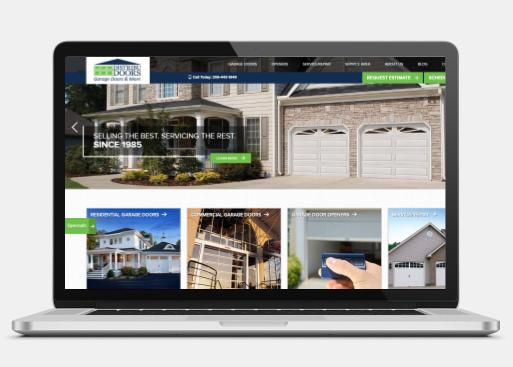 What to Look For
Once you've narrowed down your search to a few companies, here are some things you should look for before making a decision:
Insurance: Does the business carry mandatory liability and compensation insurance for their garage door repairs and installations? This is perhaps one of the most vital questions to ask before choosing a provider.
History: Any trustworthy garage door company should be ready to supply information about its age, origins and the number of customers they've served throughout the years.
Location: Does the company list a physical location in Seattle? If so, Google the address and use street view if possible to check for a storefront — or, better yet, drive by it yourself.
Accreditation: Contact your potential garage door service providers to learn more about their certifications and accreditations. Many companies are members of the International Door Association, which requires a strict code of business.
Professionalism: It should be easy to get a hold of the technician throughout the repair or replacement process. They should also come to your home in a clean company vehicle featuring a logo and contact information.
Estimates: Never begin a garage door repair or replacement without first securing a quote and having a clear understanding of what the technician will do to your door. Read up on common upsells to avoid overpaying for your repair and consider getting a second opinion if you think the estimate is too high or suspiciously low.
Testimonials: A good garage door company should quickly be able to give you a list of testimonials from satisfied customers, and many can even present a portfolio of prior work. If the technician doesn't have any on-hand at the time of your estimate, request that the company provides them before agreeing to the project.
How to Double Check
When you've decided on a garage door company you think you can trust, double check their credibility and reputation by taking the following steps:
Check Google Reviews: Not only should you check to see if your potential garage door repair or replacement company is Google-verified and has plenty of reviews, but you should also check to see whether they have followed up with customers by consistently replying to any complaints or criticism.
Check BBB Rating: As stated, BBB accreditation is an essential factor to consider when choosing a garage door service provider, as it ensures the company has met high industry standards. Check to see if the business is BBB-accredited and has a history of reviews.
Check Their Contractor License: Contractors in Seattle and across Washington are required to register with the Washington State Department of Labor and Industries. You can conduct a license search on their website to verify a company's or technician's license.
Visit Their Showroom: Most reputable garage door companies will proudly show you their products and talk to you about their services in their physical showroom. One of the best ways to verify the legitimacy of a garage door company is to stop by their showroom and examine the quality of their garage door selection in person.
Protect Yourself Against Garage Door Scams
When you need a garage door company to replace or repair this valuable part of your home, you deserve to know you're working with a reputable business that will go the extra mile to meet you and your family's needs.
At DistribuDoors, we've been a leading provider of garage door services and installations in the Seattle area since 1985. From the beginning, we've been driven by the desire to provide superior customer care and attention to detail — which we have been successful in doing, according to our testimonials, A+ rating on BBB, 4.8-star rating on Google and more.
We encourage you to stop by our Algona showroom or contact us for more information on requesting an estimate or scheduling a repair. We hope you'll give us the opportunity to satisfy your garage door needs and fulfill our excellent reputation as Seattle's trusted garage door company.