Looking for Garage Door Service in
Auburn, Washington

?
Contact the Local Garage Door Experts
Contact us today about any questions, free estimate requests, or service needs
Address
412 Warde Street
Algona, WA 98001
"The bottom line: when my jealous neighbors ask where I got my beautiful garage doors and door openers, I will proudly tell them Distribudoors. I'll tell them: 'Don't waste your time with any other company. Call the team at Distribudoors. You'll be glad you did.'"
-Marty L.
Auburn
Garage Door Company in Auburn


You take great pride in your home in Auburn and pay a lot of attention to making it look great. That's why it's so important not to neglect your garage door.
Your garage door makes up a significant part of your home's exterior, meaning the right door can dramatically increase the curb appeal and even the value of your home. By the same token, a garage door in poor condition is not only inconvenient, but can also make your home look less desirable.
At DistribuDoors, we have spent decades making sure the garage doors on homes in and around the greater Seattle area look great and are in top condition all year. We offer high-quality Auburn garage door repair, installation, replacement and maintenance. We can also install a state-of-the-art garage door opener or other accessories.
Garage Door Repair in Auburn
We hope your garage door will last a long time in good working order. But repair needs do arise. Parts wear out, bad weather takes its toll and accidents result in impacts to the door. Whatever your garage door repair issue in Auburn is, DistribuDoors will be on hand to fix it fast.
When you call DistribuDoors for your garage door repair in and around Auburn, we will send courteous, knowledgeable, highly-trained and certified garage door repair technicians to your home. We will diagnose the problem quickly and offer a very reasonable estimate on the cost of your repair. Whether it's a bad garage door opener motor, a broken torsion spring or a dented panel, we have the tools, skills and parts to get your garage door back on track fast.
Garage Door Maintenance in Auburn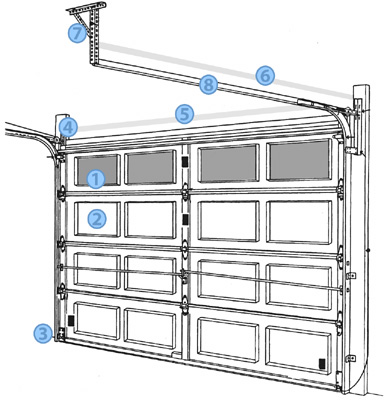 To make sure your garage door stays functioning at optimal capacity for the longest possible time, and to help ward off costly repairs, we recommend you schedule garage door maintenance with DistribuDoors at least annually.
With an annual tune-up from DistribuDoors, our certified technicians will inspect your entire system. We will make sure the weather-stripping is intact and that there is no debris under the door blocking your photo eye sensors or clogging up the door tracks. We will lubricate all moving parts and check all cables, springs and rollers to make sure nothing is broken or too worn-out. With your approval, we can make any needed part replacements from our huge inventory of brand-new garage door parts.
We will also check the alignment and balance of your door, tighten any loose bolts or screws, make sure your garage door opener is working properly and check if any of your door panels need replacing.
Garage door maintenance with DistribuDoors is very reasonably priced — especially relative to the cost of a big repair. Regular maintenance can help us ward off potential problems before they become big, expensive ones. Our maintenance technicians can also show you how to do regular maintenance on your door to keep it in good shape between our visits.
Garage Doors and Installation in Auburn
Whether you are looking for a vintage door, a traditional door or a modern one, if you need insulation, extra windows or a realistic faux wood finish for a steel door, we have the garage door for you. We also have a variety of strong and attractive commercial garage doors for your consideration.
Naturally, our expert garage door professionals will be on hand and ready to install your new door once you settle on the one that's just right for you.
Contact DistribuDoors
Although we are proud to offer Clopay® garage doors and LiftMaster® garage door openers, our experts are familiar with and skilled at working on all major brands of doors and openers, so whether you need a repair, maintenance, door replacement or new door installation, don't hesitate to contact us. Remember: "We install the best and service the rest."
With competitive prices on service, attractive warranties, some of the friendliest and most knowledgeable technicians in the business and a commitment to your satisfaction, you don't need to look anywhere but DistribuDoors.
For an up-close look at some of our Clopay® doors, feel free to stop by our showroom at 421 Warde St. in Algona, WA. Or, for a completely free, no-obligation estimate on garage door repair, installation or other service in Auburn, just give us a call at 206-443-1640 or contact us online today.