CARRIAGE HOUSE GARAGE DOORS IN SEATTLE
Carriage house garage doors incorporate a piece of country charm into your home. We carry several options to choose from that all offer an
authentic look coupled with modern convenience.
CARRIAGE HOUSE STYLE GARAGE DOOR FREQUENTLY ASKED QUESTIONS
As the area's leading garage door installer, we know a lot about carriage house style garage doors — and we get asked a lot of questions. We are always happy to offer our experience, and we have compiled a list of some of the most frequently asked questions we encounter about this garage door option.
WHAT IS A CARRIAGE HOUSE GARAGE DOOR?
Carriage house garage doors have a long history that dates back to when homeowners used their garages to store their horse-drawn carriage. These doors have a rustic charm and consist of two large gates you can customize to include windows. In the past, people had to open these doors by hand. With our carriage house doors, we can install an
advanced opener system
that will do the heavy lifting for you.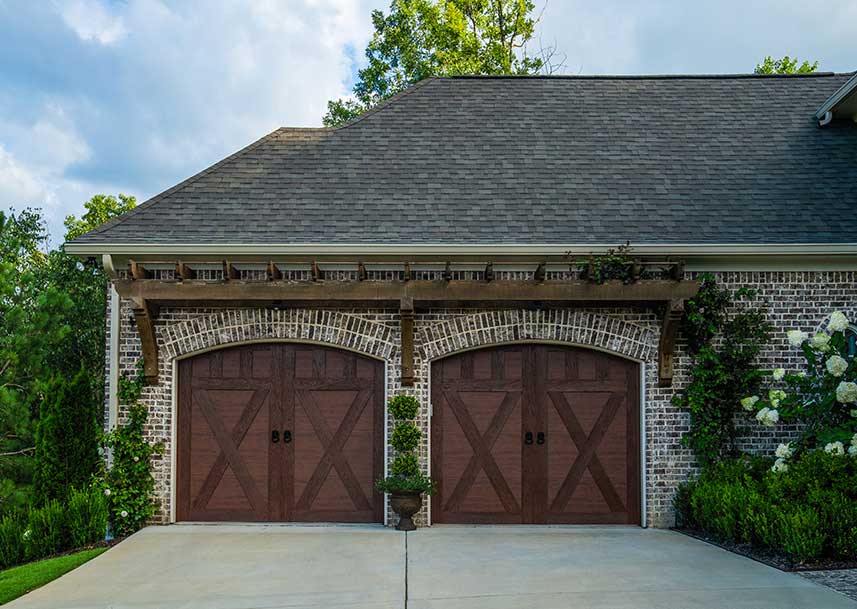 WHAT ARE THE STYLE FEATURES OF CARRIAGE HOUSE GARAGE DOORS?
Carriage house garage doors are characterized by their swing-out appearance. These doors are modeled after the early carriage houses. The carriages were eventually replaced with cars, but the garage doors still operated the same —  they were designed to open horizontally and swing out so that you could access your car.
The nice thing about today's carriage house style doors is that while they look like those old doors, they have the convenience of modern operation. They can be opened remotely, and they rise up and roll back into your garage with modern overhead operation, just like any contemporary garage door.
For a truly traditional carriage house garage door look, you need wood. DistribuDoors has plenty of quality wood carriage house style doors to choose from.
Wood isn't the only option for a carriage house style door, though. Some people prefer the low maintenance and durability of steel. That's why we also offer composite doors, with a steel core and wood cladding outside, as well as doors with Ultra-Grain® wood finish. Either way, you end up with a tough steel door that looks and feels like real natural wood.
WHAT ARE CARRIAGE HOUSE GARAGE DOORS MADE OF?
At DistrubuDoors, we are Clopay® Master Authorized® Dealers, and we exclusively carry their line of products. The Clopay line of carriage house garage doors consists of doors made from attractive natural wood and durable steel:
Wood carriage house garage doors: We offer wood carriage house style garage doors from the Clopay RESERVE® WOOD collection. These garage doors feature layered construction, and you can choose between a wide variety of windows to incorporate into your design. These doors are available with brilliant white paint or in your choice of seven stains. With the RESERVE® WOOD collection CUSTOM series, you can create a unique carriage house garage door with unlimited customization options.
Steel carriage house garage doors: Steel carriage house garage doors offer a range of benefits, and we have several options you can compare. The Clopay COACHMAN®, CANYON RIDGE®, GRAND HARBOR® and GALLERY® collections all have attractive swing-out doors you can customize with paint in a massive selection of attractive colors. If you want to gain the durability of steel but still want your door to have a natural look, we have steel carriage house doors available with our Ultra-Grain® faux-wood finish.
All of our carriage house style garage doors come with your choice of powder-coated metal handles, hinges and plates from our available options. The windows are made from acrylic, and you can choose between clear, frosted, rain or obscure privacy glass for the look you want to achieve.
WHAT TYPES OF HOMES ARE IDEAL FOR CARRIAGE HOUSE STYLE GARAGE DOORS?
You might think of vintage homes when it comes the type of house that's ideal for a carriage house style garage door, but they actually fit in seamlessly with the décor of many types of homes —
including cabins, bungalows, Craftsman homes
and
traditional homes
. If you're not sure whether or not a carriage house style garage door will fit your home, you can 
use our Garage Door Visualizer
 to see how different doors look. You can also contact us to discuss your style of home and how well the carriage house style door will suit it.
HOW MUCH DO CARRIAGE HOUSE STYLE GARAGE DOORS COST?
A new carriage house garage door is an excellent way to
improve your curb appeal
without going through a complete remodel, but price and installation costs will vary from home to home. Choosing a wood or steel door, adding windows, upgrading hardware and other options will factor into your final price. Ask for a free estimate to get an accurate idea of the cost to install a carriage house style door on your home.
CARRIAGE HOUSE STYLE GARAGE DOORS IN THE SEATTLE AREA
If you would like assistance with making a selection, we can help! We have over 35 years of experience serving homeowners across the Seattle area. Our experts will go over our complete product catalog and work with you to design the perfect carriage house style garage door for your home. Call (206) 445-7698 to learn more or
fill out our contact form
to request a quote.