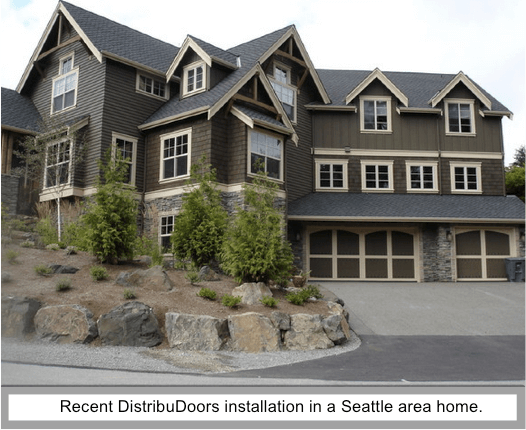 Thanks in part to the popularity of Pinterest and Etsy.com, many Seattle area homeowners come to us with brilliant ideas for custom garage doors. We love the creativity and share your excitement for the perfect door. With custom painting, decorative details, window options and more – DistribuDoors can make yours the most unique garage doors on the block. Come visit our Algona showroom or call to speak with a friendly design consultant about your new custom door. Don't forget: a unique garage door adds significant value to your home! ... Read more
The International Door Association (IDA) named June as "Garage Safety Month" to remind homeowners and their families about garage door safety and maintenance. All new garage door openers include photoelectric eyes to stop and reverse a closing door if an object passes in front of them. To test your garage door:
Check the sides of the garage door to find photo eyes, which should be mounted no higher than 6 inches off the floor.
Block the photo eye with an object over 6 inches tall, and press the garage door opener's close button. The door should not close.
Finally, lay an object that is at least 1.5 inches higher on the ground in the door's path, and press the close button. The door should "reverse off" this object.
If you...
Read more
Is your garage attached to your house? Is your garage hot in the summer and cold in the winter? If you answered "yes" to both of these questions, your garage may be increasing the cost of your utility bills. Don't worry — DistribuDoors can help. Garage doors are opened every day, so naturally there are going to be temperature fluctuations. But it's the energy efficiency of the door when closed that really matters. An insulated garage door can help stabilize temperatures in your garage. In fact, a new, energy efficient garage door can reduce energy loss through the garage by up to 71%. We invite you to upgrade to energy efficient doors, to save money on utility costs by reducing energy loss. Our Clopay® garage doors feature Intellicore®... Read more