5 Projects to Improve Home Value
Whether you are painting a room in your house or converting an entire space into a new room, home projects can accomplish a lot. They can update the look of your house, making it more aesthetically pleasing and comfortable, as well as increase your home's value.
The return on your investment can depend on several factors such as the value of the other houses near you, the quality of the home project and the current housing market. It is also important to keep in mind that certain projects have a higher return on investment than others. Read on to find out which projects are worth focusing on to increase the value of your home.
A Message About the Coronavirus
Updated May 15th, 2020
To Our Customers,
Amidst the current coronavirus (COVID-19) outbreak, the safety and well-being of our customers and employees remains a top priority. Our office will remain open. Our office, showroom and parts sales will be open in accordance with the regulations set forth by the CDC and OSHA guidelines for construction, considered an essential business. Both our office staff and installation team are practicing safe social distancing and proper hygiene with regard to hand washing, personal protective equipment and sanitizing workspaces. The installation team has been instructed to enter only a customers' garage when able, and to wear a clean mask, gloves, and booties where appropriate.
If you prefer to not have any contact with our technician, but would still like to keep your scheduled appointment, please let the office know and we can handle payment via phone instead of in-person with the technician. To help keep our employees' safe, and maintain safe social distancing, we do ask that you wait in the home, or somewhere other than the garage while we are performing a service or installation.
The DistribuDoors' team remains committed to providing the highest quality service to our customers, as safely as possible. Please feel free to contact our office with any questions or concerns you may have. Thank you all for your support and understanding as we work through this difficult time together.
Sincerely,
The DistribuDoors Team
DistribuDoors Celebrates Garage Safety Month
The International Door Association (IDA) named June as "Garage Safety Month" to remind homeowners and their families about garage door safety and maintenance.
All new garage door openers include photoelectric eyes to stop and reverse a closing door if an object passes in front of them. To test your garage door:
Check the sides of the garage door to find photo eyes, which should be mounted no higher than 6 inches off the floor.
Block the photo eye with an object over 6 inches tall, and press the garage door opener's close button. The door should not close.
Finally, lay an object that is at least 1.5 inches higher on the ground in the door's path, and press the close button. The door should "reverse off" this object.
If you are concerned by this results of this test, call DistribuDoors. Our technicians will inspect and make any necessary repairs. Here are other tips from Clopay to ensure that your garage door is working safely >>
And now for the celebration…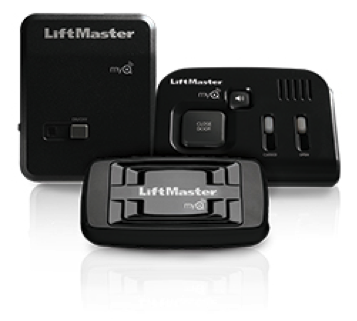 Starting June 1 – July 18, LiftMaster® is offering a Free Safety Access Kit! This mail-in rebate is available with the purchase and installation of any MyQ enabled opener. Regularly $130, the Safety Access Kit allows you to monitor access to your garage from anywhere, so you can always feel safe. It includes a Garage Door and Gate Monitor that can be placed inside the home to see if your garage door is open. If open, it can then close your garage door with a push of the button. The Remote Light Control can manage interior lighting from your garage door remote or smartphone. And finally, the Internet Gateway allows you to use your smartphone to monitor and control garage access from anywhere. Call DistribuDoors to find out if you are eligible for the Free Safety Access Kit.


This month, LiftMaster is also promoting their Don't Chance It. Check It. campaign. DistribuDoors is a certified Don't Chance It. Check It. technician. Call DistribuDoors whenever you are concerned about the safety and functionality of your garage door opener, for a thorough inspection. And in the meantime, enter LiftMaster's contest to earn a garage makeover for you and 10 neighbors! Who knew garage safety could earn you so many friends.
Enjoy your summer and practice garage safety with help from DistribuDoors!
Buy an Amazing Garage Door – from Us!