Product Highlight: Steel Garage Doors

Steel garage doors provide property owners with a wide range of benefits. Practical and attractive, a professionally installed steel garage door can add value to your home, refresh its appearance and make it more secure and energy-efficient.
Best Garage Door Materials for Seattle Homes
A garage door is an incredibly valued and important part of your home and its daily operation. Different styles of architecture and even different parts of the country call for different types of garage doors. What are the best garage door materials in Seattle? Climate and location make Seattle area homes primed for specific types of garage doors.
To make the best decision for you and your home, take a look at why garage door materials matter and the best Seattle garage door materials to consider below.
Chain Drive vs Belt Drive Garage Door Openers
Updated: July 7th, 2019
If you are in the market for a new garage door opener you will have to make the decision between a chain drive opener and a belt drive opener. Here are a few points to review to help make that decision easier.
Why is Clopay's Gold Bar Hardware Better?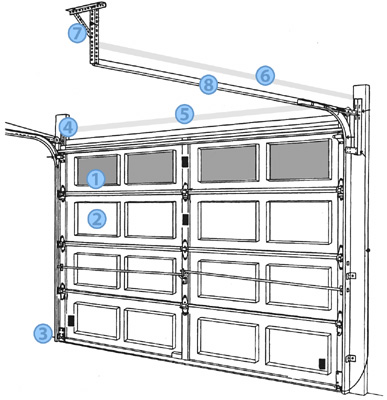 Most people don't realize just how many moving parts a garage door has to make it work. There are tracks, rollers, springs, cables, drums, hinges, and more. Garage doors weigh on average 200 – 300 lbs. With all these parts working to operate the largest moving part of your home you want something that will last and be safe.
Clopay's Gold Bar option provides an opportunity to go from industry standard to superior quality hardware for your door. This includes an upgrade from a 3 year hardware warranty to a lifetime warranty.
Springs are probably the most important part of any garage door system. Industry standard springs will last approximately 10,000 cycles (opening and closing your door). Gold Bar means you get a 20,000 cycle spring. This doubles the life of your spring and given that a typical spring replacement will cost you about $200 makes the upgrade more than worth it.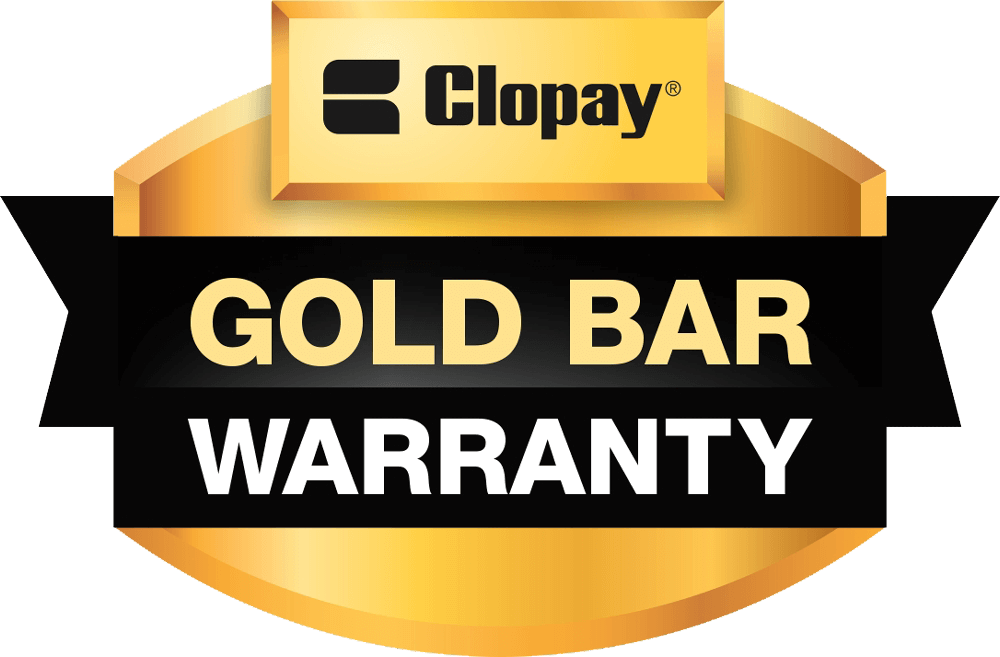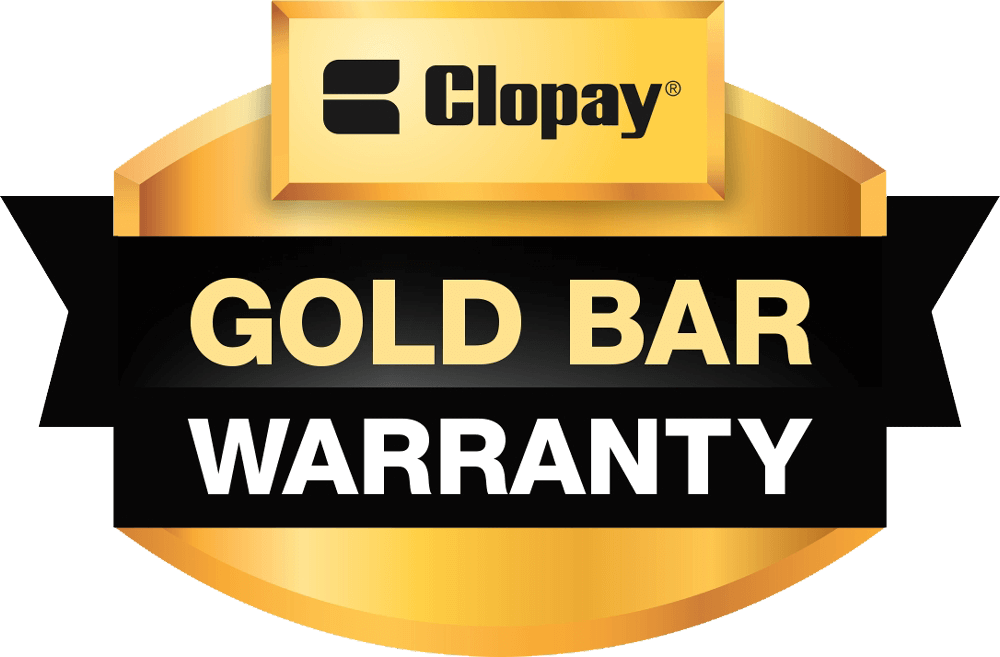 Also, a garage door usually has at least 9 hinges and 16 rollers. Industry standard gives you 18 gauge steel hinges and basic nylon rollers. Gold Bar includes an upgrade to 14 gauge commercial grade hinges and nylon ball bearing rollers.
There are so many reasons we choose Clopay Garage Doors and are proud to be Master Authorized Dealers. Gold Bar Hardware is just one reason that Clopay Garage Doors is the best option for your home.
Garage Door Weather Seal
It's that time of the year. The weather is changing and the insects, rodents, and other critters are seeking warmer temperatures. Often inside our homes.
A garage door can make your home easily accessible to small creatures if not well maintained. Checking your weather stripping regularly and repairing it as needed can reduce this issue.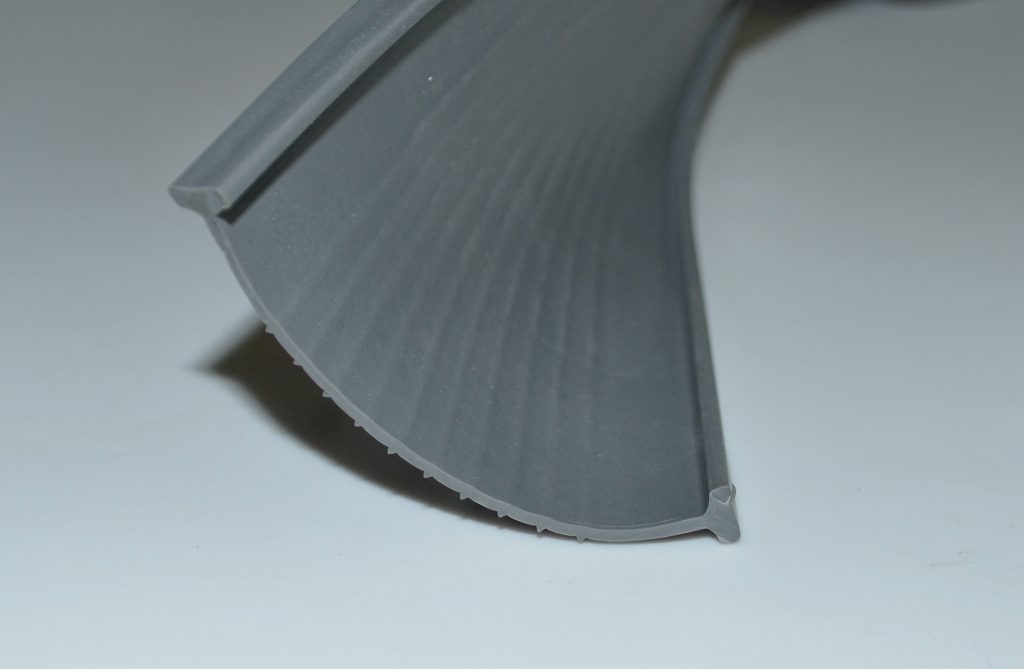 Your garage door should have vinyl or rubber seal (astragal) connected to the bottom of the door (in a metal retainer). If your concrete slab is uneven often a larger piece of rubber will be needed in order to complete the seal.
It is best if your door has vinyl seal along each side and across the top of the opening as well. When installed correctly this will be touching your door when it is in the closed position. This will also keep air from sneaking in or out of the garage. If you have an insulated garage door, this will be necessary in order to get the most out of your energy efficient investment.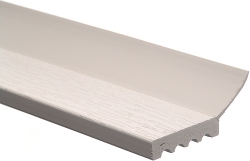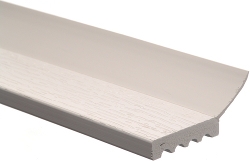 Typically, over time this seal will wear out as it is rubbing against the door on every open and close. It will need to be replaced every few years or so (all doors vary). Keep an eye on your garage door and make sure if your weather seal is falling apart or tearing that you have it replaced. If you have questions regarding the type of seal you have or need to use on replacement, please call us at (206) 443-1640.