Why Is My Garage Door Opening by Itself?
It happened again. You ran to the grocery store and returned quickly, only to discover that your garage door was left open. You're certain you closed it, and this isn't the first time it's happened. What's going on?
Called "phantom operation" by repair experts, there are a few reasons your garage door could be opening by itself. Here are a few possible problems and how you can solve them yourself — and how to know when you should call in the pros.
How Long Do Garage Doors Last?
A garage door is an investment on which any homeowner wants a return, but it's impossible to determine garage door ROI without knowing garage door lifespan. To help you better understand the garage door lifespan you can expect — as well as the resulting return on investment — here are answers to the common question: How long do garage doors last?
Are Garage Doors Covered Under Homeowners Insurance?
If you've ever filed a claim with your homeowners insurance company, you know how important this coverage is. When an accident or another type of damage occurs that's covered by homeowners insurance, the coverage can be an absolute lifesaver. Paying out of pocket to fix problems with a home can easily exceed an available budget.
Like any type of insurance, with homeowners insurance, certain things are covered, and others that are not. If your garage door gets damaged, you may be wondering if you can file a claim with your insurance company. Navigating insurance issues can be a little tricky sometimes, and that's why we want to help make the process a bit easier. Below are some questions you may be asking yourself about filing an insurance claim for garage doors.
Annual Garage Door Service
If you are like most home owners with a garage you are typically using it as the main entrance into your home. In just a matter of a few months a garage door can be opened and closed hundreds of times. Having a good quality door and opener is important; but keeping it maintained and lubricated can extend the life of any garage door.
Replacing your garage doors and openers can be a large investment for your home. Spending a small amount on a regular basis can keep this from occurring faster than you may have planned.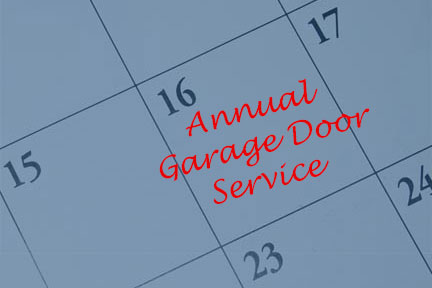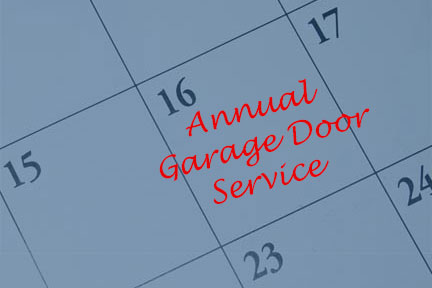 What's Included?
The following is what DistribuDoors includes in an annual garage door service call…
26 Point Safety Check
Our experienced technician will review your entire system. They will be checking a list of essential points that are required for a safe and smooth operation. This will include checking rollers, hinges, tracks, sensors, cables, springs, etc.
Tune Up
All hardware on your garage door and opener will be tightened and secured. Any new parts that are requested or needed will be replaced.
Lubrication
All moving parts of the door system will be lubricated with a high quality lubrication.
Spring Rebalance
Our technician will weigh your garage door and rewind the springs to properly handle the load for optimal safety. This will also take pressure off of the garage door opener; they tend to be over worked when springs are not rebalanced on a regular basis.
As the weather changes seasonally garage doors and their hardware will fluctuate and cause loosening and tightening throughout the year. Having a professional check your door annually will insure that your garage door will last longer and be safer. Please contact us with any questions you may have about servicing your garage doors and openers.
What is R-value?
R-value is a term often used in home construction to determine the level of heat resistance in products including insulation, roofing, garage doors, etc. The basic concept is that the higher the R-value the better the product is at keeping your home warm or cool.
When it comes to garage doors, R-value can be incredibly important. The first question to ask is how you are planning to use your garage. Are you storing valuables? Are you using it as a living space or working space? Or are you simply parking vehicles inside? Is the rest of the garage insulated?
If you have reason to want to keep it warm in the cooler months and cooler in the warm months than you will want a higher R-value. If you are not concerned with the temperature inside your garage then you can afford to purchase a garage door with a lower R-value.
It is also important to keep in mind that your garage temperature can have an effect on the rest of your home. Also, garage doors with higher R-values are typically higher in stability and dent resistance. R-value is only one factor to consider in deciding the garage door that is best for your home.