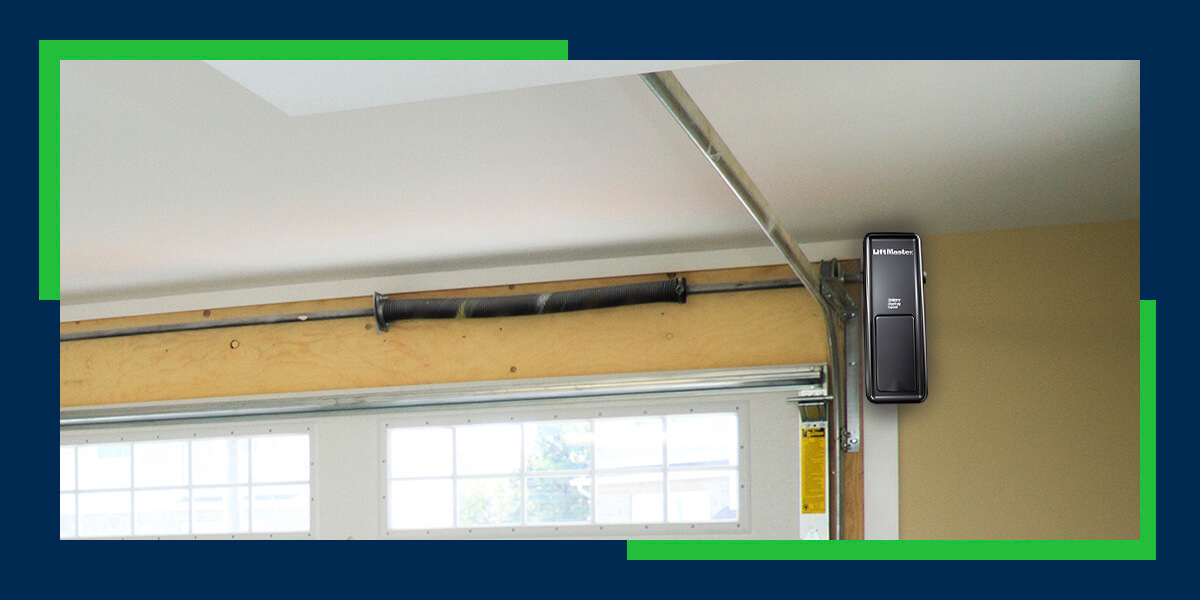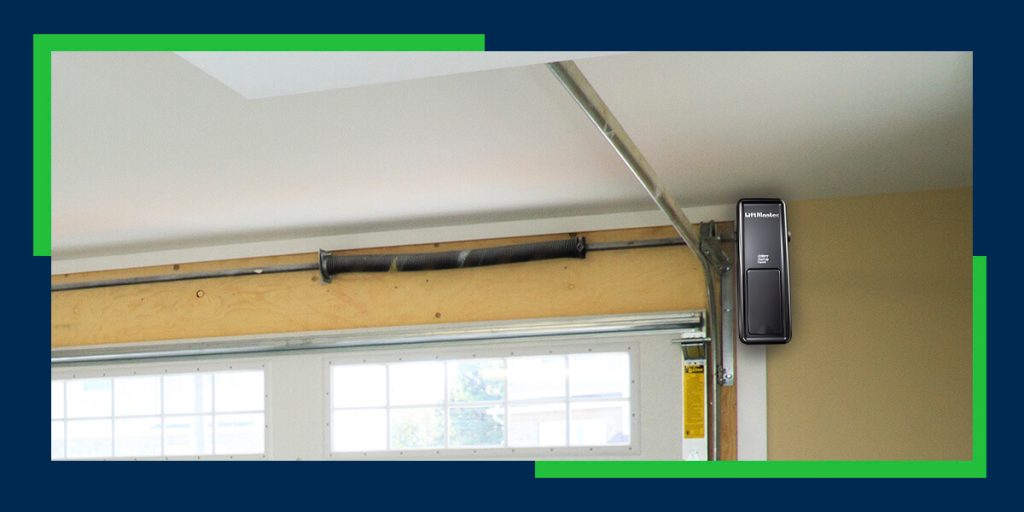 Updated: May 5, 2023
Things to Know in This Article:
When you find yourself choosing the different components of your garage door, you'll eventually come to one of the biggest choices — the opener. With several popular and effective options on the market, you need to consider the pros and cons of each one before you decide on the right opener to fit your door, garage and preferences.
An increasingly popular option is the residential jackshaft garage door opener. This jackshaft garage door opener guide will take you through the benefits it offers and help you decide if it's the right choice for you.
What Is a Jackshaft Garage Door Opener?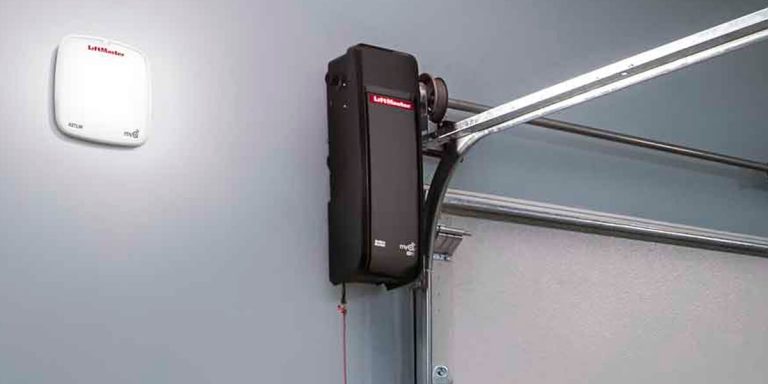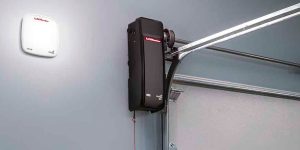 A jackshaft opener is a wall-mounted garage door opener that is installed beside a garage door instead of overhead. Jackshaft openers free up overhead space in garages, making them ideal opener solutions for garages with high or angled ceilings. They're also an excellent option when you want extra storage space above your garage door.
Instead of connecting to an overhead track and rail system, the jackshaft garage door opener connects to the door's torsion bar to move it up and down. This garage door opener works perfectly for full vertical-, standard- and high-lift doors. However, keep in mind that you'll need to have an electrical outlet within six feet of the opener.
What Makes a Jackshaft Garage Door Opener Different?
The primary difference between jackshaft and traditional garage door openers is their placement. By being mounted on the wall, a jackshaft opener frees up ceiling space and can be more convenient.
Its placement also leads to another difference between the jackshaft and a traditional opener — the installation specifications. A jackshaft opener has a few special installation requirements, including:
At least eight inches of space on the side of the garage door.
Three inches of space above the door.
An electrical outlet no more than six feet away from the opener.
A torsion lift spring system to connect to the opener.
What Are the Pros and Cons of a Jackshaft Garage Door Opener?
Jackshaft garage door openers provide homeowners and businesses with many benefits. However, before you invest in a jackshaft system, it's crucial to fully understand the product you're buying. Take a look at both the pros and cons of the jackshaft opener listed below.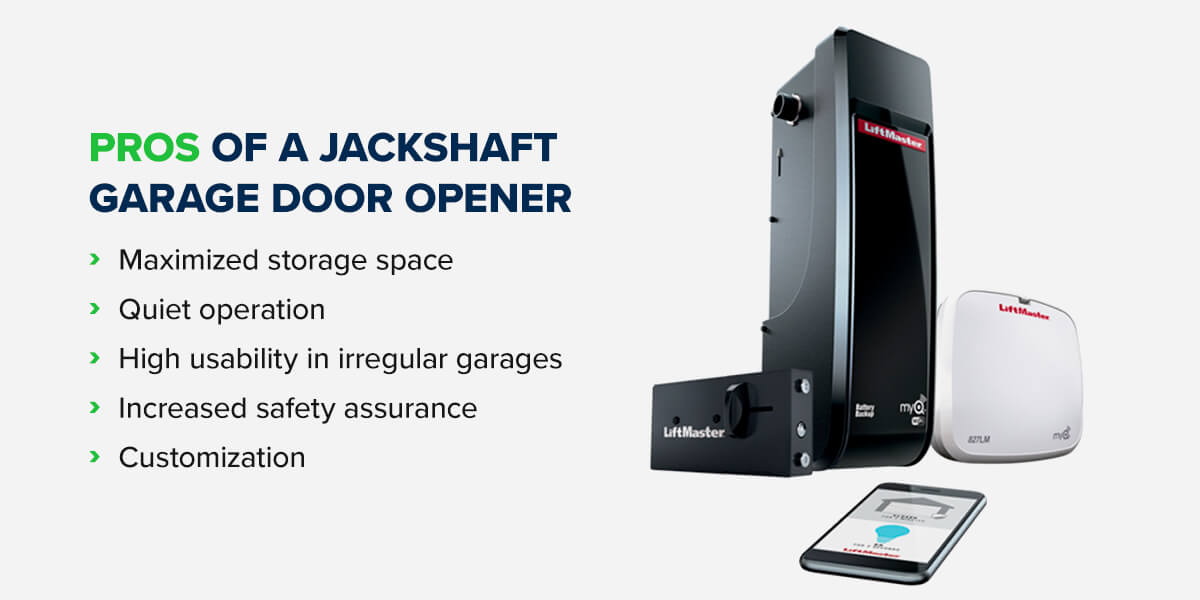 Pros of a Jackshaft Garage Door Opener
First, let's take a look at the many benefits of a jackshaft door opener:
Maximized storage space: Many people choose to store large items like bikes, canoes and kayaks in the ceiling space that a rail system would take up with belt and chain drive openers. Instead, residential jackshaft openers provide that storage space. They also work for residential high-lift doors so you don't need a false panel.
Quiet operation: If your garage is near bedrooms or other living units, the jackshaft is an ideal choice because of its silent action.
High usability in irregular garages: Garages with cathedral ceilings and small depth are much better suited to jackshaft openers. The rails for trolley systems require clearance of 48 inches or more above the garage door, which is more than many homes have. If your garage has pipes or boilers positioned near the ceiling, there's a chance these items will block the area a traditional opener requires, making the jackshaft opener the ideal choice.
Increased safety assurance: Instead of having a motor unit hanging above your car for years, it can be safely off to the side of the door and not hanging over anything. The jackshaft opener can also be manually operated, which makes it safer in emergency situations. Several security options like safety reversal systems, safety sensors and rolling code technology are available in some models, such as the LiftMasterTM 8500. You can choose a remotely operated 200-watt light for convenience as well.
Customization: Some of the best residential jackshaft openers on the market today come with a variety of customizable qualities. Some models can be operated remotely with a computer, smartphone or tablet, and many come with an optional battery backup and a power system that operates without electricity. If your home has a power outage, the opener will still function.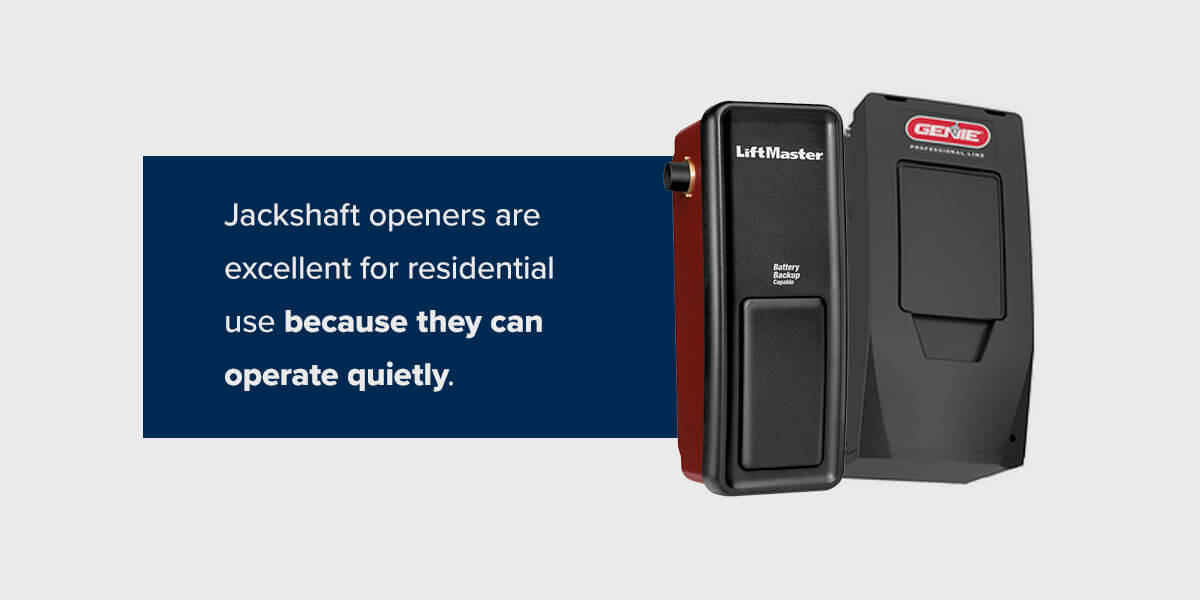 Cons of a Jackshaft Garage Door Opener
Now let's consider some of the cons of a jackshaft opener:
More expensive: While jackshaft openers offer more benefits and features, those options come at a higher price.
Requires a lot of space: These openers have unique installation requirements that mean they may not be suitable for all garages.
Not suitable for heavy doors: Residential jackshaft garage door openers work on doors up to 14 feet high or 180 total square feet. If your door is larger than that or especially heavy, the jackshaft system may not be able to function properly.
When to Choose a Jackshaft Opener
People often see jackshafts in commercial garages, but homeowners now recognize the benefits of this opener style for residential use. Jackshafts work best for people who meet specific spatial and installation requirements.
A high-ceilinged garage: Double- or single-car garages typically have a ceiling height of around 8 feet. However, some newer homes have garage ceilings up to 12 feet tall. If you have a high ceiling, a jackshaft is an excellent way to use the extra space.
Sloped ceilings: Overhead doors can be challenging to install in a sloped garage. A jackshaft can create a smoother operation without challenging installation.
Limited garage depth: Overhead door openers need a minimum of 48 inches for clearance. Fixtures often limit the available garage depth, making a jackshaft an excellent option.
Jackshaft vs. Traditional Garage Door Openers — Which Is a Better Fit for You?
Jackshaft garage door openers provide many benefits, but a traditional garage door opener may be a better fit depending on your garage and needs. If you're not sure how to choose between the two, consider the following aspects:
Your budget: Since jackshaft openers come with added benefits and convenience, they tend to be a bit more expensive than a traditional opener. While jackshaft garage openers are an excellent investment, a traditional door is more affordable if you're installing a garage door opener on a budget.
The setup of your garage: As mentioned above, jackshaft garage door openers have unique requirements for installation. If your garage or garage door doesn't meet these requirements, you'll want to look at more traditional garage door options.
The type of garage door you have: Jackshaft door openers are only compatible with roll-up or sectional-style garage doors. If you currently have a different style of garage door, you won't be able to use a jackshaft opener — unless, of course, you also plan to update your garage door!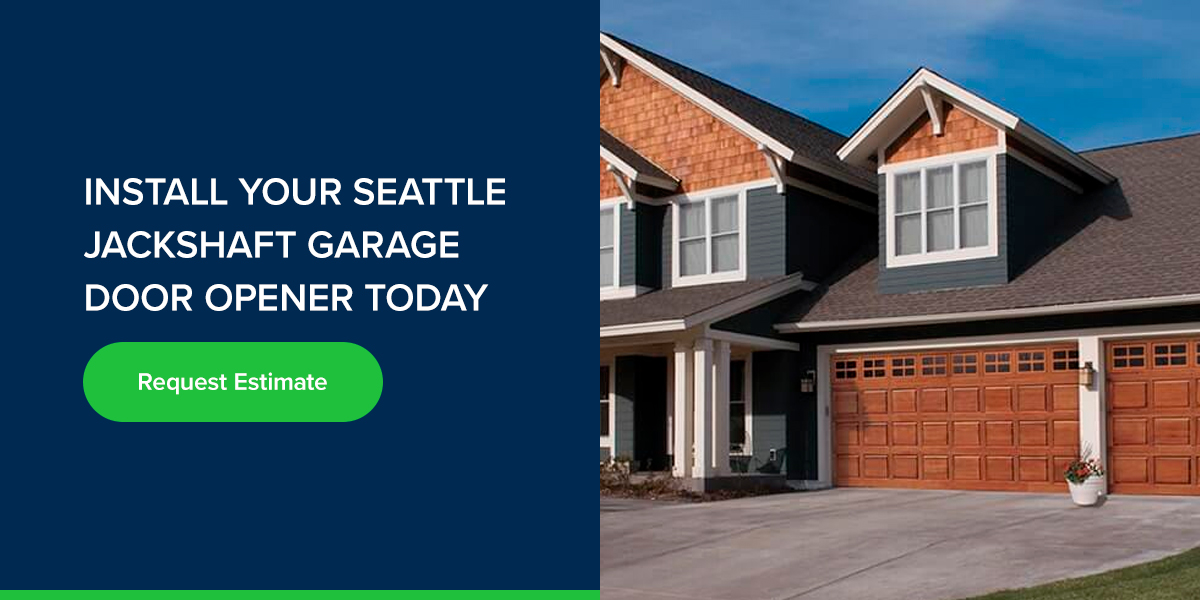 Install Your Seattle Jackshaft Garage Door Opener Today
At DistribuDoors, we train and certify our employees ourselves after proper background checks to ensure you get the quality service often missing in subcontractors. Top-notch products and services are our number one priority, no matter what garage door opener or other products you choose. We're proud to provide our expert jackshaft installation services to Bellevue and the greater Seattle area.
Request an installation estimate today or contact us to speak with one of our experienced professionals about our residential jackshaft openers!
Related Resources