Updated: March 29, 2022
If you have had your garage door opener for some time, you may wonder if it's time to think about replacing your garage door opener. In fact, if you've owned your home for a relatively short time, you may have never considered getting a new garage door opener. However, like most mechanical items, your garage door opener will wear out eventually. How often should you think about replacing your garage door opener?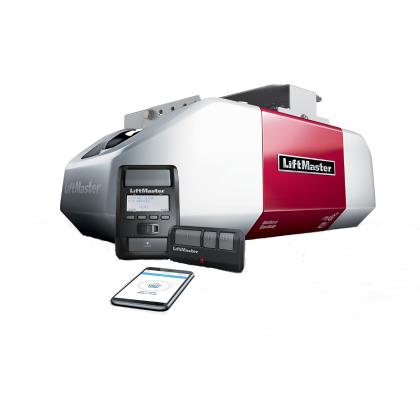 Garage Door Opener Lifespans
A typical garage door opener should last about 10 to 15 years. There are different factors like workload, the frequency of use, and maintenance that can have an affect on the lifespan of your garage door opener's motor and other parts.
A 10 to 15 year lifespan can work out well, because other parts of your garage door system, like your torsion springs, also usually last around 10 years. You may be able to replace the whole system at once and not think about it again for a decade or so. However, if you are experiencing frequent repair needs with your garage door opener and you're not sure how long you have had it, you may want to think about replacing it.
Your garage door professional can give you a better idea of whether it is worth it to continue to repair your opener or to get a new one. However, you should not really have to repair your garage door opener that often, so if the system keeps breaking down, replacement is usually a good idea. If your Auburn garage door opener is not that old but is not one of the better brands, and you are finding yourself calling for repairs often, you may want to replace it with a more reliable, high-quality brand like LiftMaster®.
Other Reasons to Replace Your Garage Door Opener
Age is not the only reason to replace your garage door opener. There are other good reasons, including:
Off-Brand: As mentioned, the brand of garage door opener you choose really matters. LiftMaster® garage doors come with a variety of great options and are quieter and more reliable than many other garage door openers. If you don't have a LiftMaster® garage door opener now, you may want to switch to one.
Security: If you have an older garage door opener, even if it is in perfect working order, it still may not be safe. Old garage door openers are vulnerable to hacking, whereas modern garage door openers have rolling security codes that change after every use. A potential intruder will have a much harder time finding the right code to activate it.
Safety: Modern garage door systems are required to come equipped with photo eye sensors, which emit a laser beam that prevents the door from coming down if someone or something is underneath it. Older systems may lack this safety feature, in which case you need to replace it.
Convenience: Today's LiftMaster® garage door openers come equipped with MyQ® Smart Technology. This amazing technology makes it easy for you to open your garage door from basically anywhere. All you have to do is download an app, and you can open and close your door from your enabled device anywhere you can connect to Wi-Fi. The app can also tell you whenever anyone opens or closes the door, and you can set a timer to have the door open or close at certain times.
The luxury of never having to worry that you forgot to close the garage door when you left for vacation, or of having the garage door open and waiting for you as you arrive home, is well worth replacing the garage door opener.
Contact DistribuDoors for Replacement Garage Door Openers in the Seattle Area
If you have a home in the Seattle area and are ready to replace your garage door opener with a brand-new model, contact DistribuDoors in Algona, Washington, today. We offer a full line of LiftMaster® garage door openers, from belt drive openers to chain drive openers to jackshaft openers when overhead space is a premium. These garage door openers are long-lasting, reliable, whisper-quiet and come with a battery backup so you can open and close your garage door even when the power goes out. We have a top-of-the-line selection of commercial LiftMaster® openers as well.
When you find the right garage door opener for your home, our highly trained and carefully vetted technicians will install it for you quickly and correctly at a reasonable cost. At DistribuDoors, we pride ourselves on our high level of customer service when it comes to installation, maintenance or repair of both residential and commercial garage doors and garage door openers.
Don't suffer with an old, broken-down, out-of-date garage door opener any longer. Contact DistribuDoors for your free estimate on a new garage door opener and garage door opener installation today.
Related Resources