Is it time to upgrade your garage door? If your garage door in Seattle is close to 10 years old, needs frequent repairs or is just out of date, a new garage door can be a great idea. The next question is, are insulated garage doors in Washington useful? In fact, there are many great reasons to consider insulated garage doors in Seattle. If you've been on the fence about insulated garage doors, or if you've never considered an insulated garage door but are curious about the benefits and advantages of this type of door, read on.
How Do Insulated Garage Doors Work?
When you call for insulated garage door installation in Seattle, a trained professional will bring an insulated garage door to your home and replace your existing door. We recommend Clopay® doors with Intellicore® insulation. These are steel doors with a durable insulated foam core sandwiched between them that blocks impacts, noise and most importantly, heat transfer.
Do I Need an Insulated Garage Door in Seattle?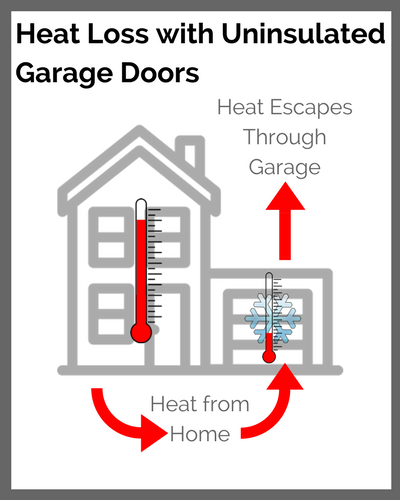 The most important reason for an insulated garage door in Seattle is that they can save you considerably on energy costs. Even if the inner door connecting your garage and your home is closed, your garage is a common way for heat to escape from the house. That inner door is probably not insulated, and regardless, you may often be opening and closing that door frequently. An insulated garage door with a high R-value can prevent heat from escaping through the garage.
This means your garage and your home stay warmer in the winter, which means you'll spend less money on heating costs. A similar principle holds true in the summer. Less hot air can get into your home via your garage, which means cooling your home is easier. The money you save on heating and cooling costs helps your insulated garage door pay for itself over time.
There are other advantages to having an insulated door. For example, you may not be aware that insulated doors tend to be much more resistant to impact damage than ordinary garage doors due to their steel construction and multiple layers.
While you may make an effort to prevent anything from damaging your door, stray basketballs, wind-blown debris or even a car that slips gears could end up putting a dent in your door, which could hurt the curb appeal of your home or necessitate an expensive repair. Insulation also makes your door less vulnerable to the various weather conditions that occur in Seattle that might ordinarily put stress on your door, helping your door last even longer.
One more added bonus of having insulated garage doors in Seattle is that insulated garage doors tend to be quieter than ordinary doors. If you have been plagued by a noisy garage door, the dampened vibration noise that comes with an insulated door may be an extremely welcome change.
Choose DistribuDoors as Your Insulated Garage Door Installation Company in Seattle
As you can see, even beyond the fact that an insulated garage door can keep you, your car and your home warmer in the winter and cooler in the summer, there are many advantages to insulated garage doors in Washington. If you're convinced about the value of an insulated garage door for your home in Seattle, the next step is to contact DistribuDoors to install it.
We have over 30 years of experience installing garage doors, and we are a master authorized dealer of Clopay® doors, so we have a selection of high-quality, stylish insulated doors just waiting for you. Once you choose the insulated door that best suits your home's exterior, your garage door needs and your personal style, our trained and certified garage door professionals will come to your home and install it for you fast, so you can start enjoying it as soon as possible.
To begin taking advantage of all the benefits of a new insulated garage door now, just contact us right away for a free, no-obligation estimate on garage door installation service. We look forward to helping you find the perfect insulated door for your Seattle home.
Related Resources