Annual Garage Door Service
If you are like most home owners with a garage you are typically using it as the main entrance into your home. In just a matter of a few months a garage door can be opened and closed hundreds of times. Having a good quality door and opener is important; but keeping it maintained and lubricated can extend the life of any garage door.
Replacing your garage doors and openers can be a large investment for your home. Spending a small amount on a regular basis can keep this from occurring faster than you may have planned.
What's Included?
The following is what DistribuDoors includes in an annual garage door service call…
26 Point Safety Check
Our experienced technician will review your entire system. They will be checking a list of essential points that are required for a safe and smooth operation. This will include checking rollers, hinges, tracks, sensors, cables, springs, etc.
Tune Up
All hardware on your garage door and opener will be tightened and secured. Any new parts that are requested or needed will be replaced.
Lubrication
All moving parts of the door system will be lubricated with a high quality lubrication.
Spring Rebalance
Our technician will weigh your garage door and rewind the springs to properly handle the load for optimal safety. This will also take pressure off of the garage door opener; they tend to be over worked when springs are not rebalanced on a regular basis.
As the weather changes seasonally garage doors and their hardware will fluctuate and cause loosening and tightening throughout the year. Having a professional check your door annually will insure that your garage door will last longer and be safer. Please contact us with any questions you may have about servicing your garage doors and openers.
What is R-value?
: the capacity of an insulating material to resist heat flow. The higher the R-value, the greater the insulating power
R-value is a term often used in home construction to determine the level of heat resistance in products including insulation, roofing, garage doors, etc. The basic concept is that the higher the R-value the better the product is at keeping your home warm or cool.
When it comes to garage doors, R-value can be incredibly important. The first question to ask is how you are planning to use your garage. Are you storing valuables? Are you using it as a living space or working space? Or are you simply parking vehicles inside? Is the rest of the garage insulated?
If you have reason to want to keep it warm in the cooler months and cooler in the warm months than you will want a higher R-value. If you are not concerned with the temperature inside your garage then you can afford to purchase a garage door with a lower R-value.
It is also important to keep in mind that your garage temperature can have an effect on the rest of your home. Also, garage doors with higher R-values are typically higher in stability and dent resistance. R-value is only one factor to consider in deciding the garage door that is best for your home.
Can I Replace just a Panel or Section of my Garage Door?
Yes. If the model of your garage door is still in production you can purchase a single panel/section to replace a damaged portion of your door. All garage door brands are built differently, they do not all fit together. You will need the same brand and same model as your current door.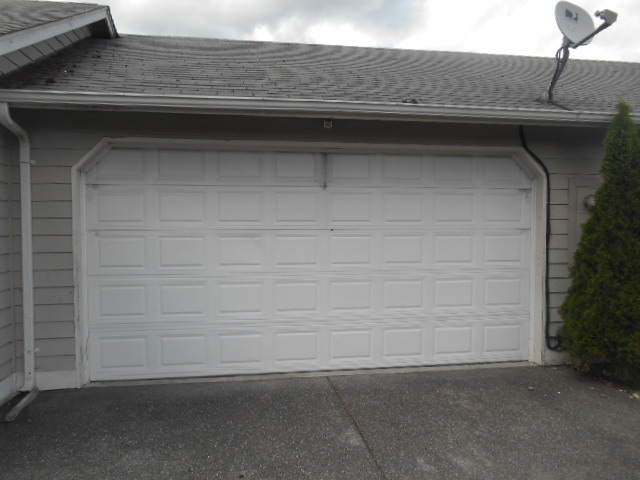 The first step whenever your garage door is damaged, if possible, is to safely close it and keep it closed. Do not continue to operate the door, it may cause more damage. If the door does not close you may need to call a garage door technician to come out and get it closed for you. A service fee will apply.
Once your door is safely closed search the inside for any brand or model information. Write down the information you find, or simply take a photo. A lot of time these stickers have fallen off or have been worn off.

You will also want to take a photo of the inside and outside of the garage door. Make sure the whole door is in the photo. Often experienced garage door technicians can tell you the brand and model information just by seeing the pictures.
Next, get a tape measure and measure the full width of your door and the height of the section needed. Write it down. Garage doors are measured by width first (eg. W 16' x H 21")
Once you have whatever brand/model information that you could find along with a photo and measurements contact the local garage door company of your choice. Give them all of your gathered information. They should be able to give you pricing over the phone or email in order to get your replacement on order ASAP. Some basic garage door designs may be available immediately, others will need to be ordered.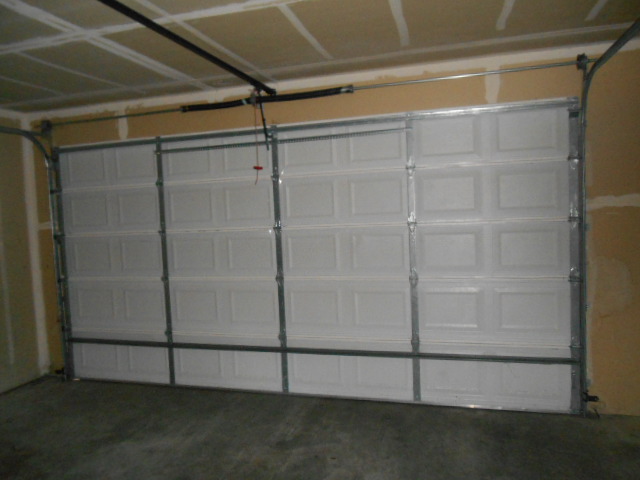 If you are unable to gather all of this info yourself, simply let your garage door dealer know that you will need someone to come out to get the information and provide pricing. Schedule an appointment and the garage door technician can determine the door you need after inspection. Gathering the information yourself will simply expedite getting your garage door fixed ASAP.
Replacing one or two sections will typically be more cost effective than replacing your full garage door. However, if three or more sections need to be replaced you may want to also ask how much it would cost to replace the whole door with new hardware. Often installing a new garage door with brand new hardware will cost about the same as replacing three sections of an existing garage door. This all depends on the brand and model you have.
When contacting DistribuDoors to order a new section we will ask if you have the following…
Brand/Model information (found on the back or side of garage door)
Photos of inside and outside of garage door (can be emailed or texted to the office)
Measurements (width first, then height)
Major brands that DistribuDoors carries include: Clopay, Northwest Door, Amarr, Wayne Dalton
Will replacing my garage door increase my home's value?
Every year Remodeling Magazine releases a report showing the Cost vs. Value of a homeowner's remodeling projects. The goal of this report is to show which home improvement projects gain you more value compared to the other home upgrade options for your specific region. If you are looking to increase the resale value of your home this report will help determine where your money is more wisely spent.
They have separated their data to show how midrange projects may differ from upscale projects. The type of home you have and the type of upgrade you are planning can affect the percentage of the cost that is recouped in the value of your home.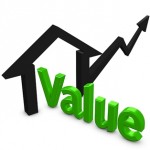 For the Seattle area, garage door replacement has consistently ranked as one of the top three midrange remodeling projects. On the upscale project list, garage door replacement does even better. This year's report shows it with an average of 141.8% of the cost added as value to your home. This is great news if you are in the market for a new garage door. They estimate if you spend an average of $3175 on a new garage door system, you will be adding an estimated $4503 to the value of your home.
Anytime you can recoup the cost of a home project it is good news, but knowing your project is going to be giving even more in return makes garage door replacement a wise investment.
View report here…
https://s3.amazonaws.com/HW_Assets/CVV_Assets/2016/Professional/seattlewa.pdf
Garage Door Springs – Hardworking and Underrated
The truth is, if a quality garage door is installed by an experienced professional, the average homeowner will rarely deal with an issue with their garage door. Annual maintenance will help ensure this, whether done by a professional or by the homeowner.
So when a customer calls us about a garage door being stuck or having a hard time operating smoothly, it is quite common that they are completely unaware that there are springs on their garage door at all. They just haven't really paid much attention to how it works as long as it is working.
To them the garage door opener is in charge of opening the door and closing it. If the power is out, they open it manually and think nothing of it. But in reality, your garage door is a very heavy and dangerous, typically wood or steel, object on tracks. Our installers place garage doors one section at a time, put the whole thing together and it is rarely operable with the strength of one person. That is, without the garage door springs.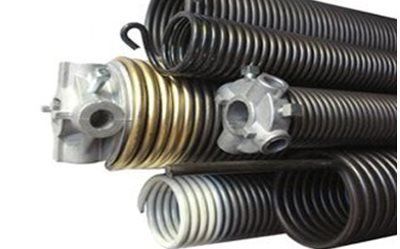 The springs are everything to your garage door. They are what allows you or your garage door opener to lift your garage door with ease. When a quality spring is used as part of your garage door hardware package they can last up to 10 years or longer, but if you plan on living in your home for longer than that, there will come a day when they will start acting up or break completely.
Here is a great article that discusses further the different types of springs as well as the dangers of replacing them yourself…
http://garages.about.com/od/garagemaintenance/a/Garage-Door-Springs-What-You-Need-To-Know.htm