GLASS GARAGE DOORS IN SEATTLE
Glass garage doors are luxurious upgrades you can add to your home for the ultimate boost in curb appeal. These doors are the epitome of elegance and deliver a one-of-a-kind appearance that will welcome you home at night with a warm, inviting glow.
FREQUENT QUESTIONS ABOUT GLASS GARAGE DOORS
At DistribuDoors, we exclusively sell and install Clopay® garage doors and offer customizable glass garage doors from their
AVANTE® Collection
. If this is your first time installing glass doors on your garage and you have questions, we have you covered. With over 35 years in the industry, we've answered a lot of questions about our products, and we collected the ones that we encounter most to help you decide.
WHAT MATERIALS ARE GLASS GARAGE DOORS MADE OF?
Clopay AVANTE® Collection garage doors are made using commercial-grade aluminum and panels made from durable tempered glass for a clean and modern look. We offer a wide variety of glass panel inserts to choose from, including clear panels for full-view garage doors, frosted panels to create an elegant effect and mirrored panels for your complete privacy. You can also choose from seven anodized or painted frame finishes that are backed by a five-year limited warranty.
ARE GLASS GARAGE DOORS INSULATED?
These glass and aluminum garage doors are available with your choice of insulated or non-insulated glass panes. Insulated glass provides improved climate control that can help make your garage more comfortable and reduce your monthly utility bill. Insulation is available on most glass garage door styles, but some restrictions apply. If you want to add the benefit of insulation to your glass garage door, our team will help find a solution that meets all of your needs.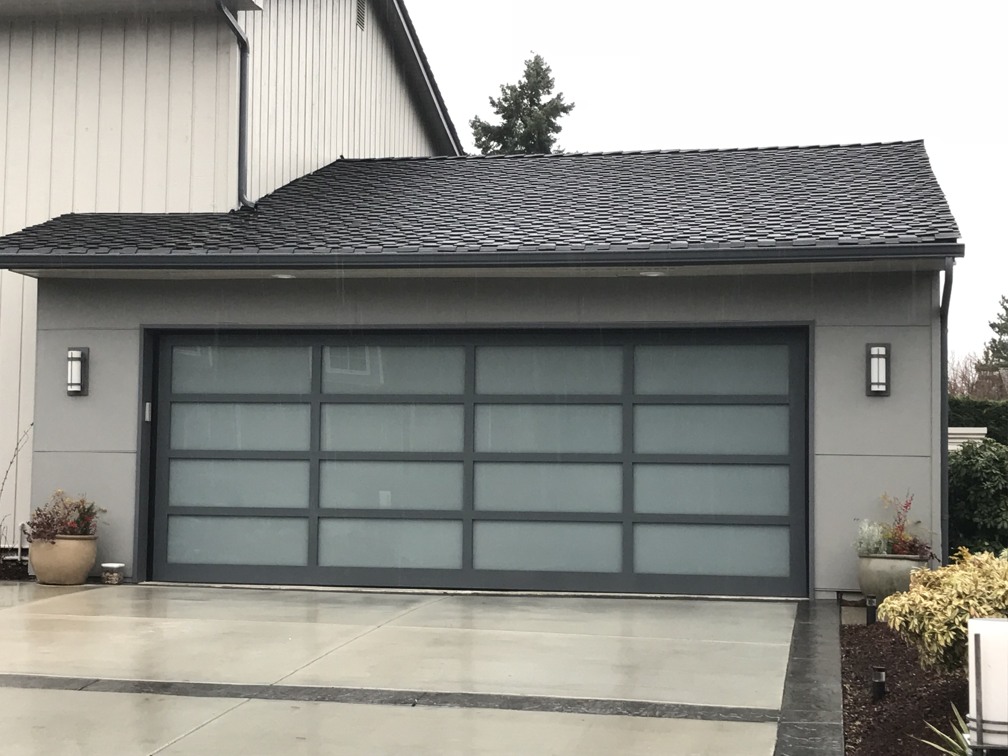 HOW DURABLE ARE GLASS GARAGE DOORS?
While they may seem intimidating, glass doors are made from quality materials that are designed to last. The frames consist of aluminum over 2 inches thick, and they use joint configurations that prevent air and water from getting inside. Both the insulated and non-insulated glass panels are thick and will stand up to impact. If they do break, the tempered construction prevents the glass from shattering for your added safety.
HOW MUCH DO GLASS GARAGE DOORS COST?
Glass garage doors are as unique as your home, and the price will vary. Clopay garage doors are made to order for an exact fit, and we offer multiple options for improving performance and getting a custom look. Your garage size, the type of glass you want to use and your preferred opener all factor into the total price, as will installation. A custom quote will provide you with the most accurate figure.
REQUEST A QUOTE FOR OUR GLASS AND ALUMINUM GARAGE DOORS
Request your free estimate today to find out what our glass garage doors can do for your home. We provide service throughout the Seattle area, and we will help you design a door that includes all your preferred features.
Contact us online today
to request your free estimate, or call (206) 445-7698 to get help over the phone.